Subaru Outback: Head restraint adjustment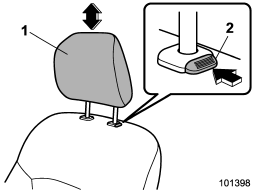 1) Head restraint
2) Release button
Both the driver's seat and the front passenger's seat are equipped with head restraints.
The head restraint should be adjusted so that the center of the head restraint is closest to the top of the occupant's ears.
To raise:
Pull the head restraint up.
To lower:
Push the head restraint down while pressing the release button on the top of the seatback.
To remove:
While pressing the release button, pull out the head restraint.
To install:
Install the head restraint into the holes that are located on the top of the seatback until the head restraint locks.
WARNING
● Never drive the vehicle with the head restraints removed because they are designed to reduce the risk of serious neck injury in the event that the vehicle is struck from the rear. Therefore, when you remove the head restraints, you must reinstall all head restraints to protect vehicle occupants.
● All occupants, including the driver, should not operate a vehicle or sit in a vehicle's seat until the head restraints are placed in their proper positions in order to minimize the risk of neck injury in the event of a crash.
READ NEXT:
1) HIGH – Rapid heating 2) LOW – Normal heating 3) OFF – Off A) Left-hand side B) Right-hand side The seat heater operates when the ignition switch is either in the "Acc" or "ON"
WARNING Seatbelts provide maximum restraint when the occupant sits well back and upright in the seat. Do not put cushions or any other materials between occupants and seatbacks or seat cushions
WARNING To prevent the passenger from sliding under the seatbelt in the event of a collision, always put the seatback in the upright position while the vehicle is in motion. CAUTION If the vehi
SEE MORE:
Talk switch To turn on the voice command system, press the talk switch briefly. To turn off the voice command system, press the talk switch for more than 1.5 seconds. The commands available for the voice command system are listed in the following chart.
1) Windshield wiper (page 3-31) 2) Mist (page 3-32) 3) Windshield washer (page 3-33) 4) Rear window wiper and washer switch (page 3-34) 5) Wiper intermittent time control switch (page 3-33) 6) Wiper control lever (page 3-32) 7) Light control switch (page 3-27) 8) Front fog light switch (pag
© 2010-2023 Copyright www.suoutback.com