Subaru Outback: General Description
A: SPECIFICATION
1. TORQUE CONVERTER CLUTCH
2. OIL PUMP

3. TRANSMISSION CONTROL ELEMENT

4. TRANSMISSION GEAR RATIO

5. PLANETARY GEAR AND PLATE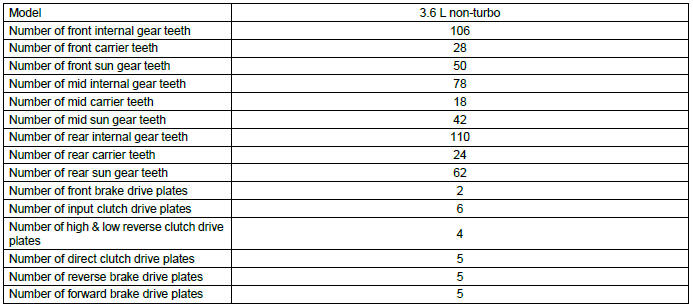 6. SELECTOR POSITION

7. HYDRAULIC CONTROL AND LUBRICATION

8. COOLING AND HARNESS

9. TRANSFER

10.FINAL REDUCTION GEAR

11.RECOMMENDED GEAR OIL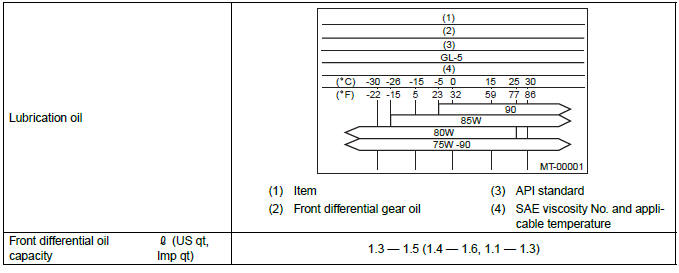 B: COMPONENT
1. TORQUE CONVERTER CLUTCH & TRANSMISSION ASSEMBLY
Torque converter ASSY
Circlip
Oil pump shaft
Differential oil level gauge
Transmission hanger COMPL
Drain plug
Gasket
Oil seal
Lock plate
Side retainer
O-ring
Oil seal
ATF level gauge
O-ring
Oil charge pipe
O-ring
Gasket
Union screw
Ball
Spring
Union screw
ATF outlet pipe
ATF inlet pipe
Drive plate
Reinforcement drive plate
Oil pan
Gasket
ATF drain plug
Breather hose
Nipple
O-ring
Oil seal
Dust cover
Floating bracket
Turbine speed sensor 1
O-ring
Magnet
Tightening torque: N*m (kgf-m, ft-lb)
T1: 5 (0.5, 3.7)
T2: 13 (1.3, 9.6)
T3: 20 (2.0, 14.8)
T4: 25 (2.5, 18.4)
T5: 40 (4.1, 29.5)
T6: 41 (4.2, 30.2)
T7: 45 (4.6, 33.2)
T8: 70 (7.1, 51.6)
T9: 90 (9.2, 66.4)
2. OIL PUMP & FRONT BRAKE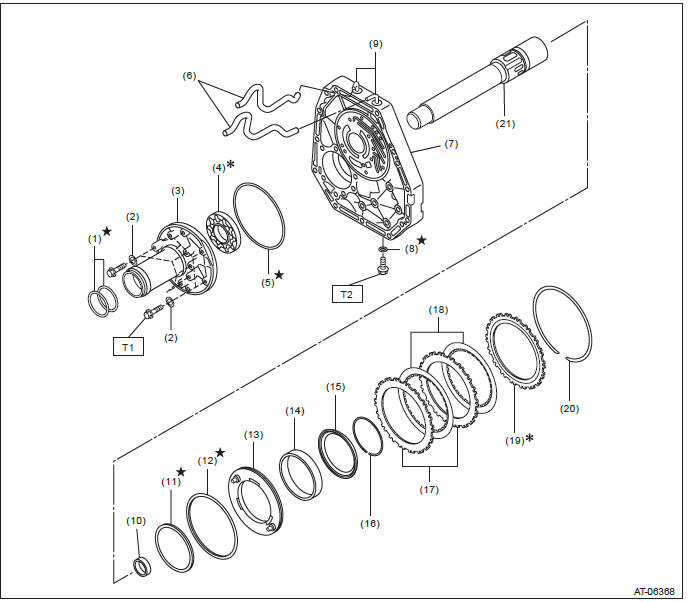 O-ring
Washer
Oil pump housing
Oil pump rotor
O-ring
Air breather hose
Oil pump cover
O-ring
Nipple
Needle bearing
D-ring (inner)
D-ring (outer)
Front brake piston
Return spring
Retainer
Snap ring
Driven plate
Drive plate
Retaining plate
Snap ring
Stator shaft
Tightening torque: N*m (kgf-m, ft-lb)
T1: 10 (1.0, 7.4)
T2: 13 (1.3, 9.6)
3. FRONT PLANETARY CARRIER AND MIDDLE & REAR PLANETARY CARRIER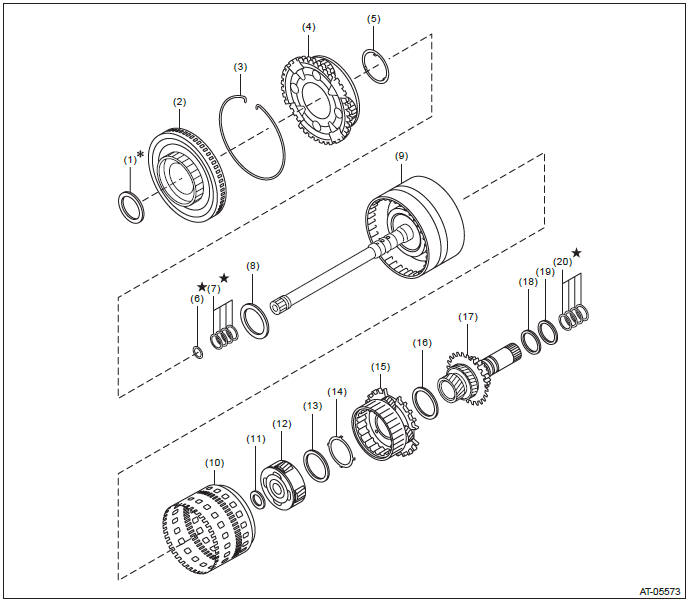 Thrust bearing
Front sun gear ASSY
Snap ring
Front carrier ASSY
Race bearing
O-ring
Seal ring
Thrust bearing
Input clutch ASSY
Rear internal gear ASSY
Thrust bearing
Middle carrier ASSY
Thrust bearing
Race bearing
Rear carrier ASSY
Thrust bearing
Middle & rear sun gear ASSY
Washer
Thrust bearing
Seal ring
4. DIRECT CLUTCH AND HIGH & LOW REVERSE CLUTCH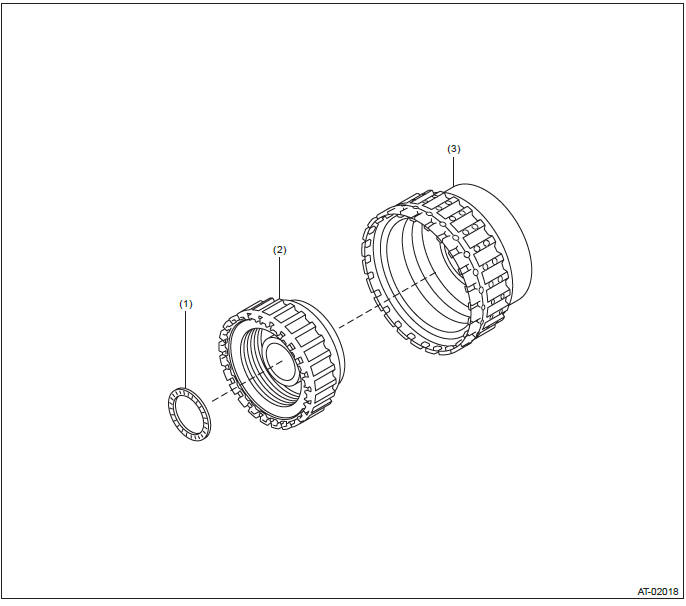 Thrust bearing
High & low reverse clutch ASSY
Direct clutch ASSY
5. REVERSE BRAKE
Snap ring
Retaining plate
Leaf spring
Drive plate
Driven plate
Dish plate
Snap ring
Retainer
Return spring
Reverse brake piston
D-ring (Outer)
D-ring (Inner)
AT main case
6. SHORT AT ASSEMBLY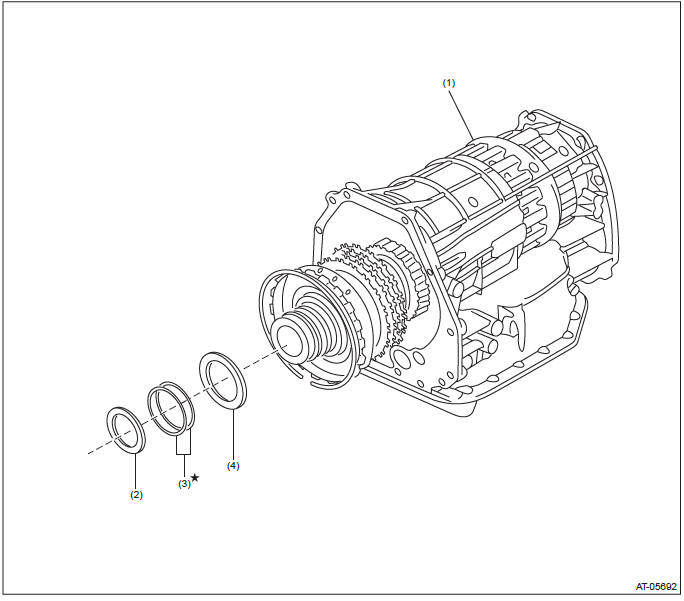 Short AT ASSY (non-disassembly)
Thrust bearing
Seal ring
Thrust bearing
7. CONTROL VALVE & TRANSMISSION HARNESS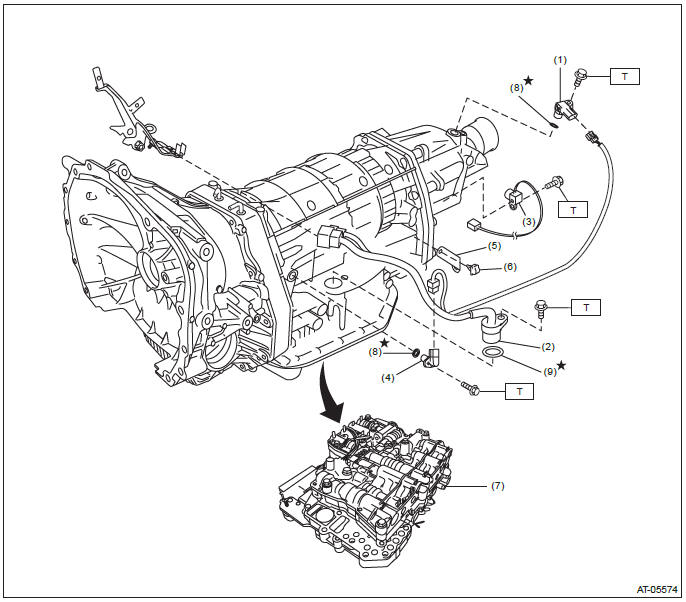 Rear vehicle speed sensor
Transmission harness ASSY
Front vehicle speed sensor
Turbine speed sensor 1
Harness bracket
Clip
Control valve ASSY
O-ring
O-ring
Tightening torque: N*m (kgf-m, ft-lb)
T: 7 (0.7, 5.2)
8. DIFFERENTIAL GEAR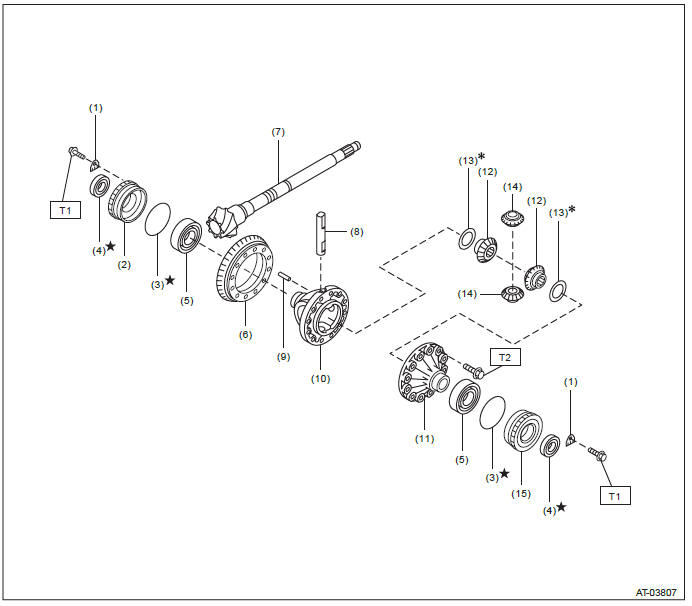 Retainer lock plate
Differential side retainer RH
O-ring
Oil seal
Taper roller bearing
Hypoid driven gear
Drive pinion shaft
Pinion shaft
Straight pin
Differential case RH
Differential case LH
Differential bevel gear
Washer
Differential bevel pinion
Differential side retainer LH
Tightening torque: N*m (kgf-m, ft-lb)
T1: 25 (2.5, 18.4)
T2: 70 (7.1, 51.6)
9. TRANSFER CASE, EXTENSION CASE & REDUCTION GEAR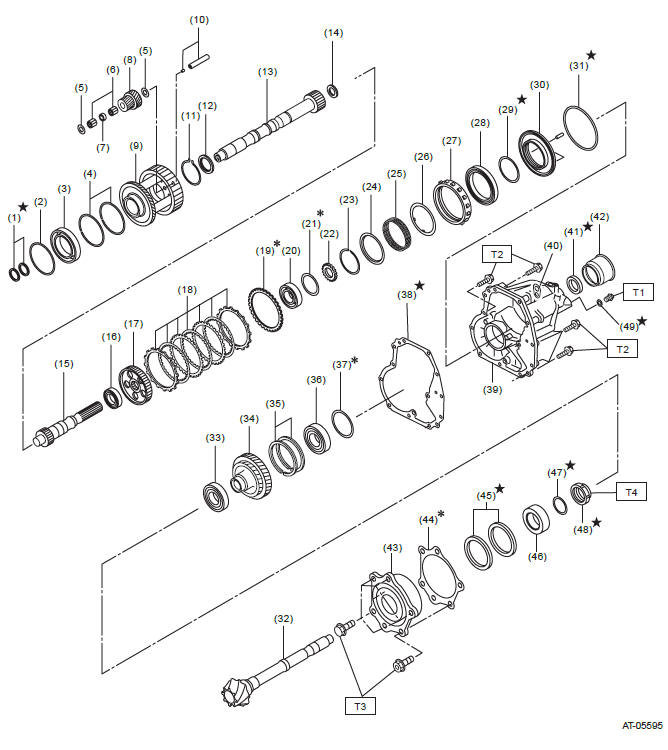 Seal ring
Reduction gear shim
Ball bearing
Snap ring
Planetary pinion washer
Needle bearing
Spacer
Pinion gear
Planetary carrier ASSY
Planetary pinion shaft ASSY
Snap ring
Thrust bearing
Intermediate shaft
Thrust washer
Rear drive shaft
Ball bearing
Transfer clutch hub
Transfer clutch plate
Driven plate No. 3.
Ball bearing
Rear drive shaft shim
Revolution gear
Snap ring
Clutch spring retainer
Return spring
Spring retainer
Pressure plate
Ball bearing
O-ring
Transfer clutch piston
D-ring
Drive pinion shaft
Ball bearing
Reduction driven gear
Snap ring
Ball bearing
Shim
Gasket
Extension case
Transmission hanger
Oil seal
Dust cover
Taper roller bearing
Drive pinion shim
Oil seal
Drive pinion collar
O-ring
Lock nut
O-ring
Tightening torque: N*m (kgf-m, ft-lb)
T1: 13 (1.3, 9.6)
T2: 25 (2.5, 18.4)
T3: 70 (7.1, 51.6)
T4: 116 (11.8, 85.6)
10.TRANSMISSION CONTROL DEVICE & PARKING SUPPORT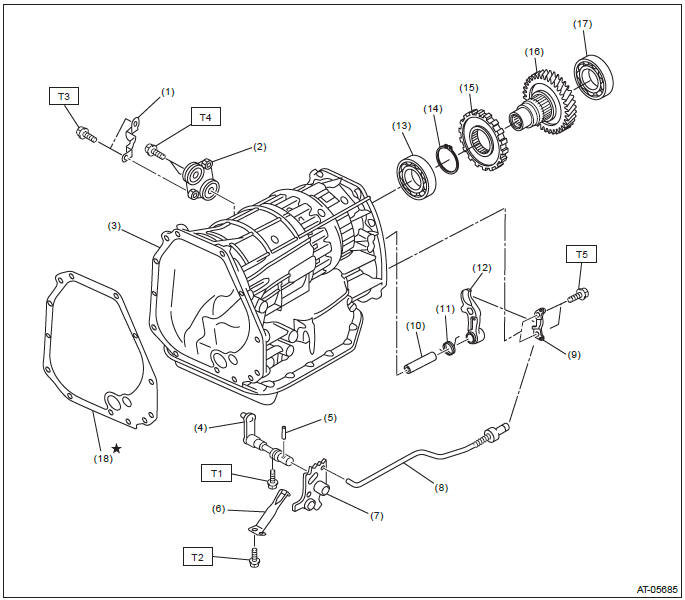 Bracket
Floating bracket
AT main case
Range select lever
Straight pin
Detent spring
Manual plate
Parking rod
Parking support actuator
Parking pawl shaft
Return spring
Parking pawl
Ball bearing
Snap ring
Parking gear
Reduction driven gear
Ball bearing
Gasket
Tightening torque: N*m (kgf-m, ft-lb)
T1: 6 (0.6, 4.4)
T2: 7 (0.7, 5.2)
T3: 18 (1.8, 13.3)
T4: 25 (2.5, 18.4)
T5: <Ref. to 5AT-76, Parking Pawl.>
11.TRANSMISSION CONTROL MODULE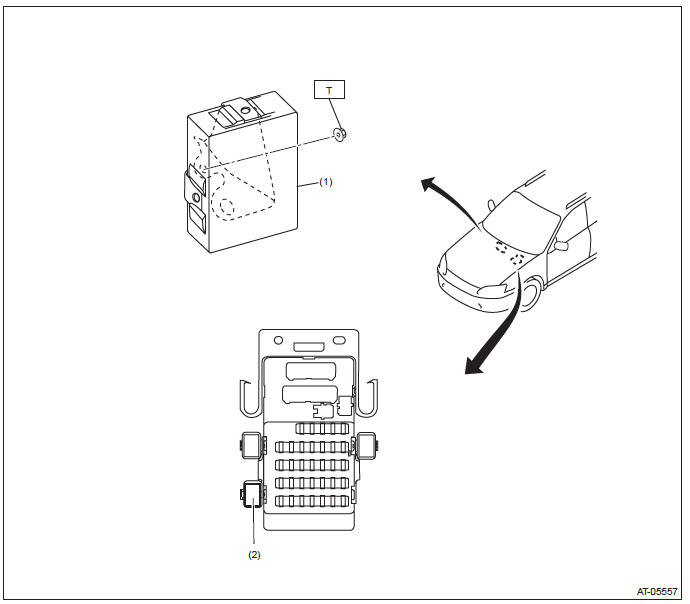 Transmission control module (TCM)
Relay
Tightening torque: N*m (kgf-m, ft-lb)
T: 7.5 (0.8, 5.5)
12.TRANSMISSION MOUNTING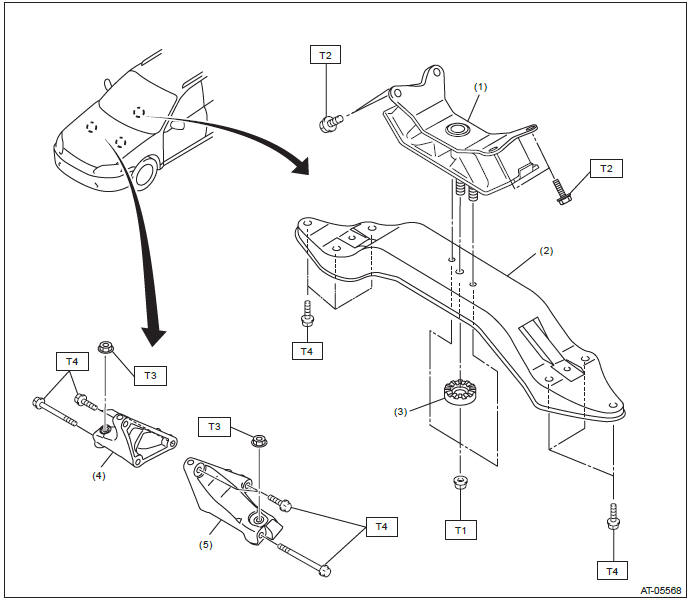 Rear cushion rubber
Crossmember
Stopper
Transmission main mounting bracket (RH)
Transmission main mounting bracket (LH)
Tightening torque: N*m (kgf-m, ft-lb)
T1: 35 (3.6, 25.8)
T2: 40 (4.1, 29.5)
T3: 45 (4.6, 33.2)
T4: 75 (7.6, 55.3)
C: CAUTION
Wear appropriate work clothing, including a cap, protective goggles and protective shoes when performing any work.
Remove contamination including dirt and corrosion before removal, installation or disassembly.
Keep the disassembled parts in order and protect them from dust and dirt.
Until the oil pan is removed, do not place with the oil pan side facing up to prevent foreign matter from entering the valve body.
Before removal, installation or disassembly, be sure to clarify the failure. Avoid unnecessary removal, disassembly and replacement.
When disassembling the case and other light alloy parts, disassemble them by slightly tapping with a plastic hammer. Do not pry apart with screwdrivers or other tools.
Vehicle components are extremely hot after driving.

Be wary of receiving burns from heated parts.

Use SUBARU genuine gear oil, grease or equivalent.

Do not mix them of different grades or manufacturers.

Be sure to tighten bolts and nuts to the specified torque.
Place shop jacks or rigid racks at the specified points.
Apply gear oil onto sliding or revolving surfaces before installation.
Replace deformed or damaged snap rings with new parts.
Before installing O-rings or oil seals, apply sufficient amount of ATF fluid to avoid damage and deformation.
Be careful not to incorrectly install or fail to install O-rings, snap rings and other such parts.
Before securing a part on a vise, place cushioning material such as wood blocks, aluminum plate, or cloth between the part and the vise.
Avoid damaging the mating surface of the case.
Before applying liquid gasket, completely remove the old liquid gasket.
During disassembly or assembly, be sure to use nylon gloves or paper towels. Do not use cloth gloves or waste cloth.
D: PREPARATION TOOL
1. SPECIAL TOOL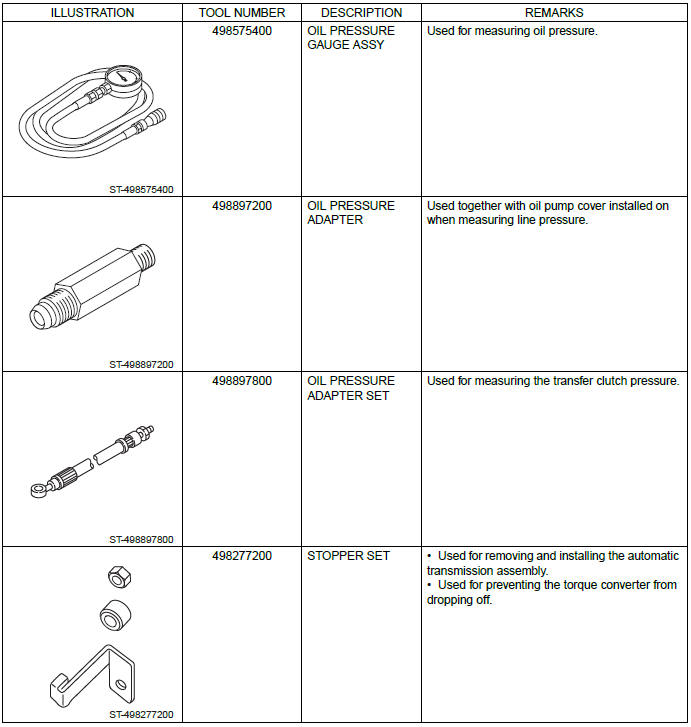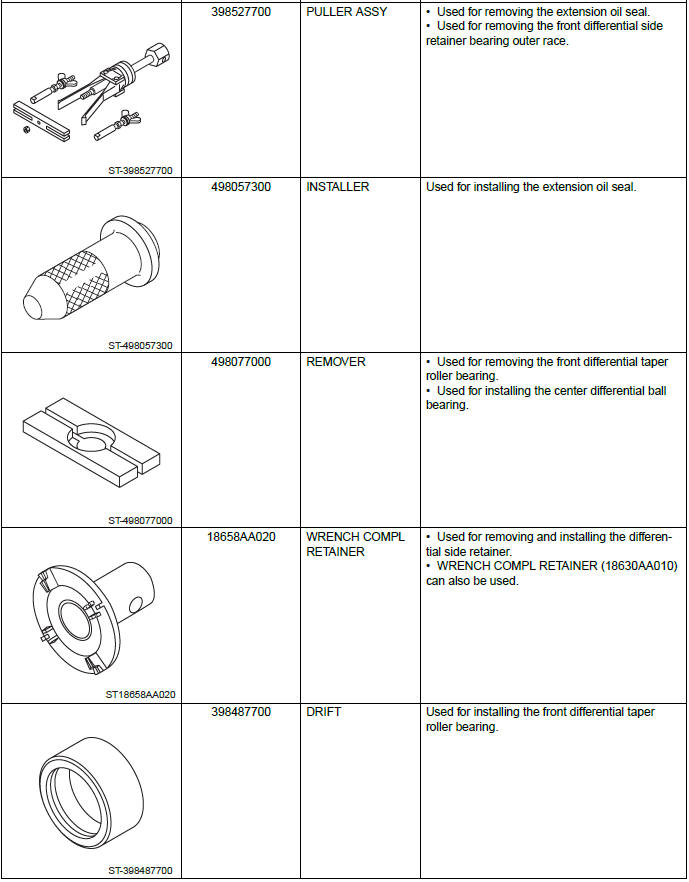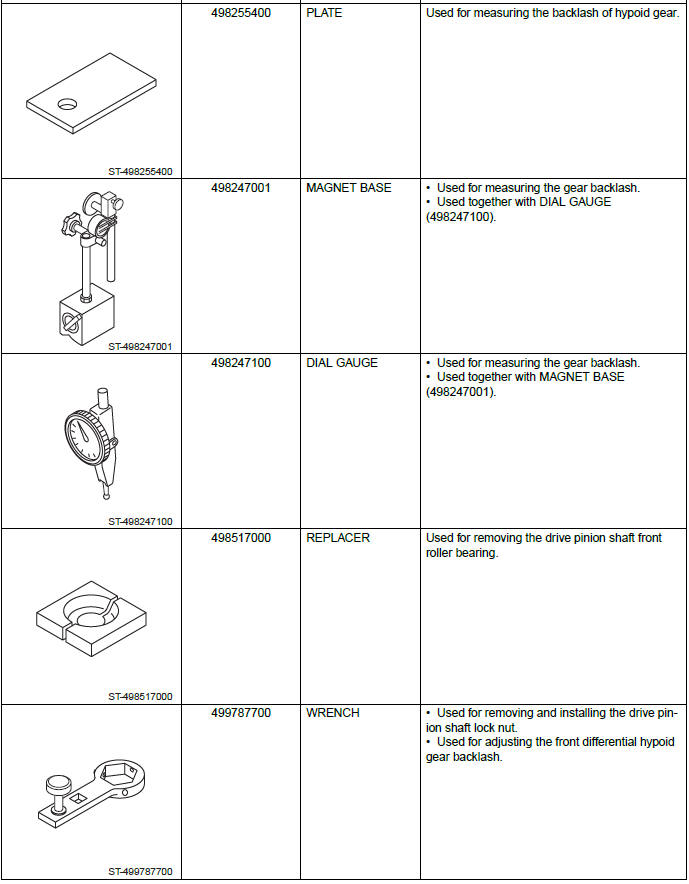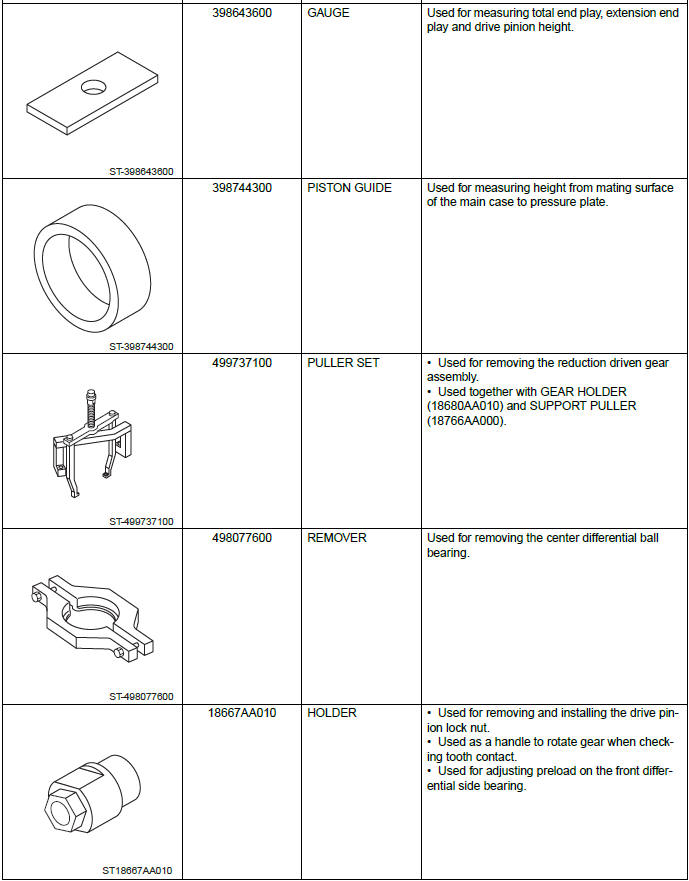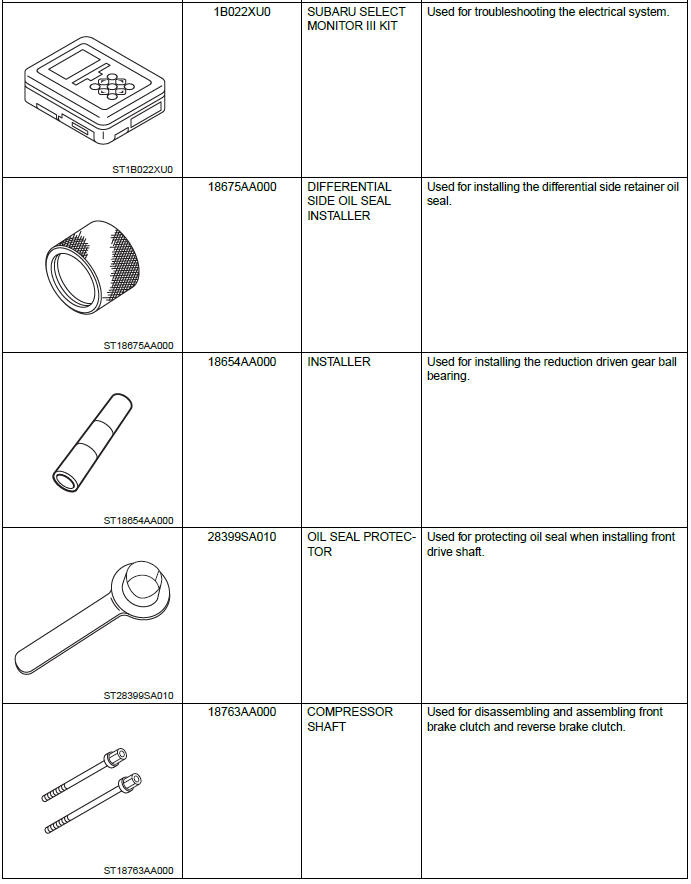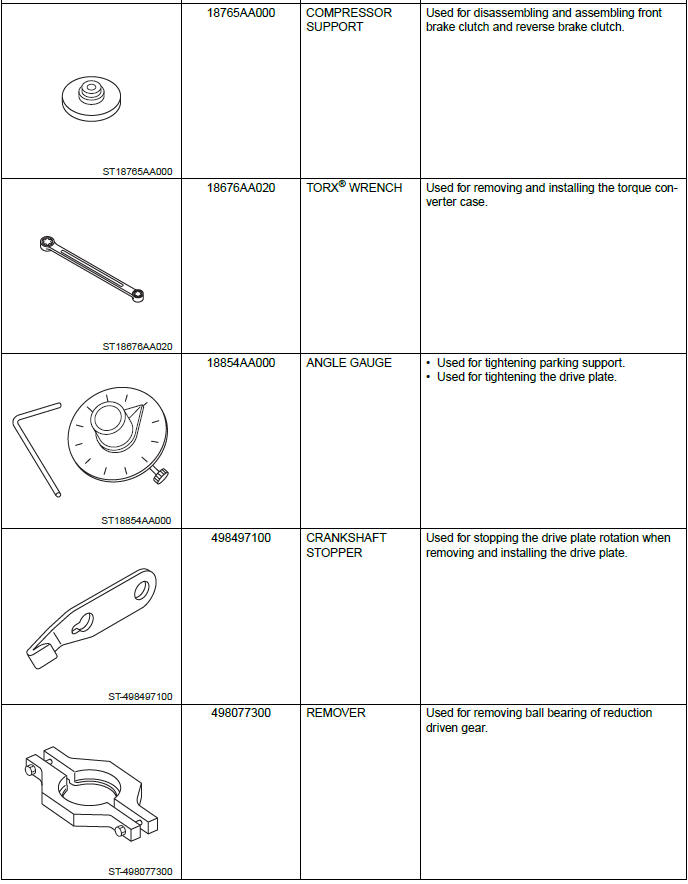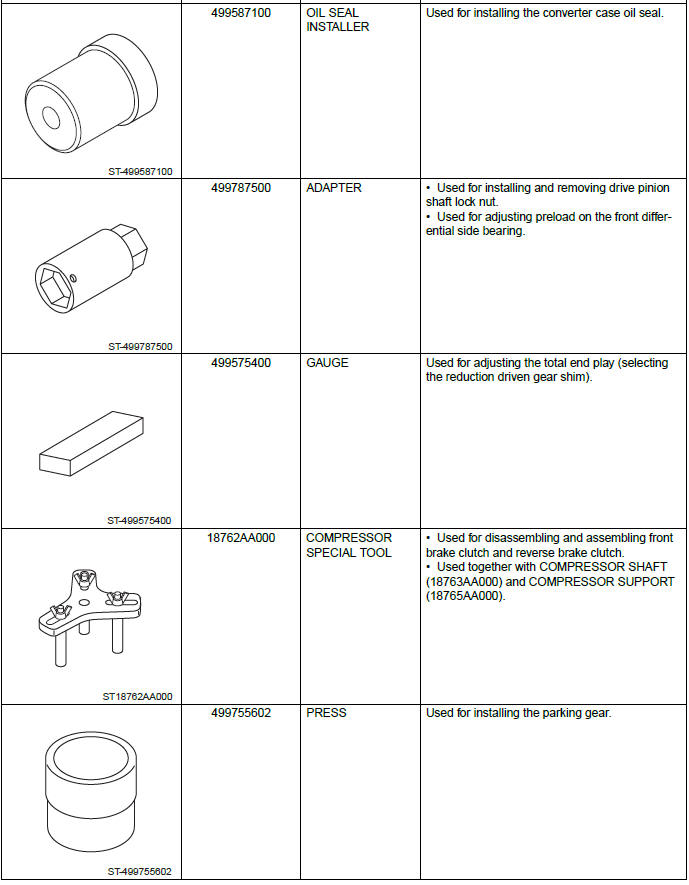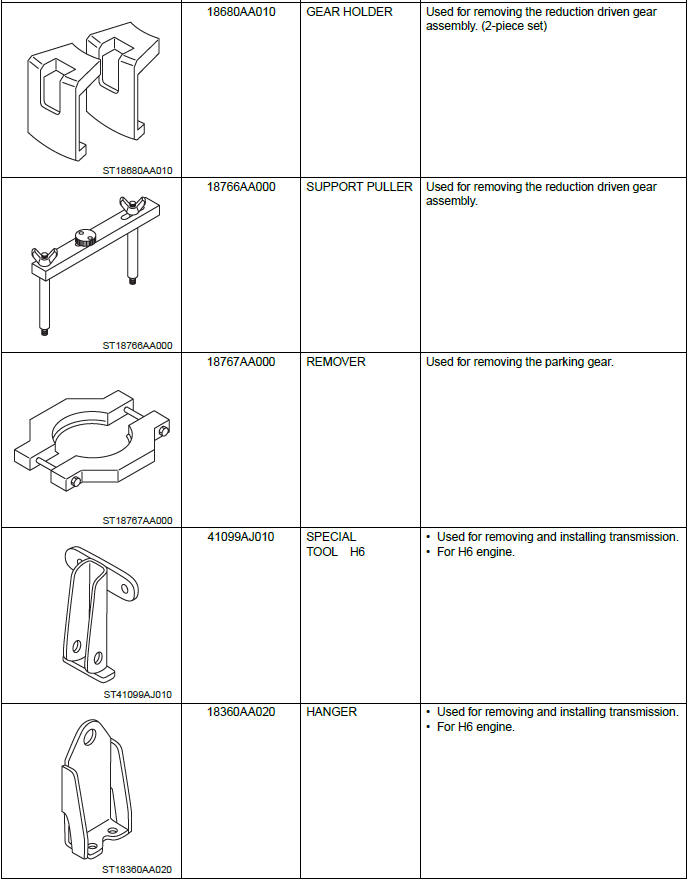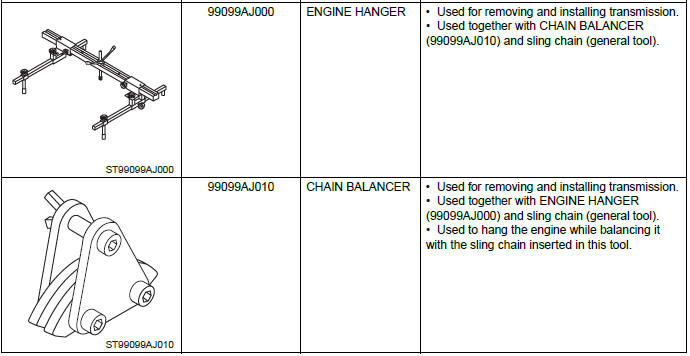 2. GENERAL TOOL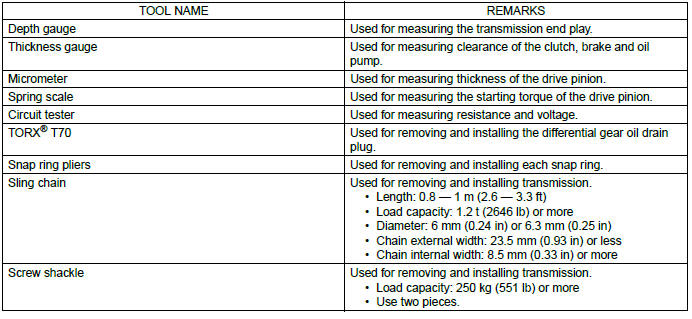 READ NEXT:
A: INSPECTION NOTE: The level of ATF varies with fluid temperature. Pay attention to the ATF temperature when checking ATF level. 1) Raise the ATF temperature by driving a distance of 5 to 10 km (3 t
A: INSPECTION 1. GENERAL PRECAUTION Road tests should be conducted to properly diagnose the condition of automatic transmission. NOTE: When performing the test, do not exceed posted speed limit. 2. D
A: REMOVAL 1) Remove the front wheels. 2) Fully open the front hood. 3) Disconnect the ground cable from battery. 4) Remove the collector cover. NOTE: Follow the steps below when removing the coll
SEE MORE:
The help line (distance marker and vehicle width line) is a guide to help you realize the actual distance from the screen. Help lines displayed on the navigation monitor Help lines displayed on the inside mirror 1) Vehicle width line (oblique vertical line) 2) Approx. 10 feet (3 m) from th
1) HomeLink® button 1 2) HomeLink® button 2 3) LED 4) HomeLink® button 3 5) Sensor 6) Automatic dimming on/off button 7) Compass display button 8) Compass display The auto-dimming mirror has an anti-glare feature which automatically reduces glare coming from headlights of vehicles beh
© 2010-2023 Copyright www.suoutback.com