Subaru Outback: General Description
A: SPECIFICATION
1. MANUAL TRANSMISSION AND DIFFERENTIAL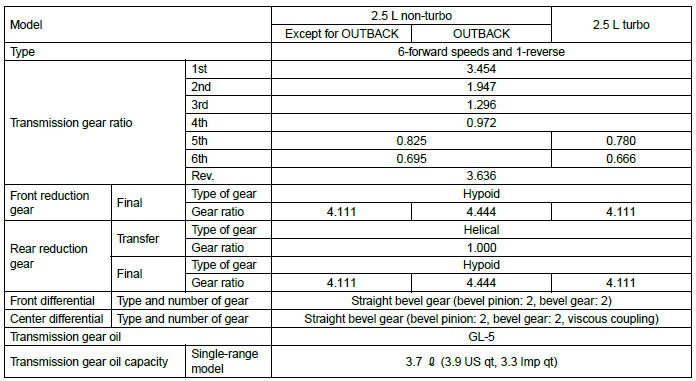 2. TRANSMISSION GEAR OIL
Recommended oil: GL-5 (75W-90) or equivalent
B: COMPONENT
1. TRANSMISSION CASE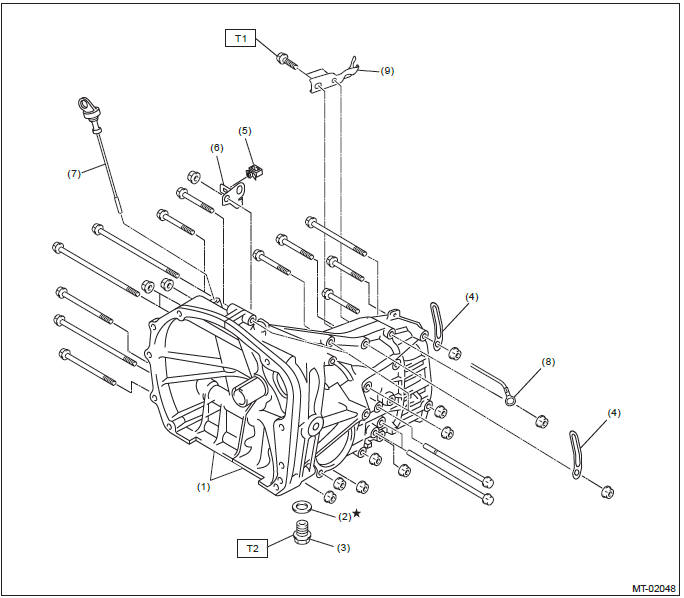 Transmission case ASSY
Gasket
Drain plug
Harness clip
Clamp
Harness bracket
Oil level gauge
Transmission radio ground cord
Select bracket
Tightening torque: N*m (kgf-m, ft-lb)
T1: 18 (1.8, 13.3)
T2:
44 (4.5, 32.5) (Aluminum gasket, silver)
70 (7.1, 51.6) (Copper gasket, brown)
70 (7.1, 51.6) (Metal gasket, black)
Transmission case tightening torque

2. DRIVE PINION ASSEMBLY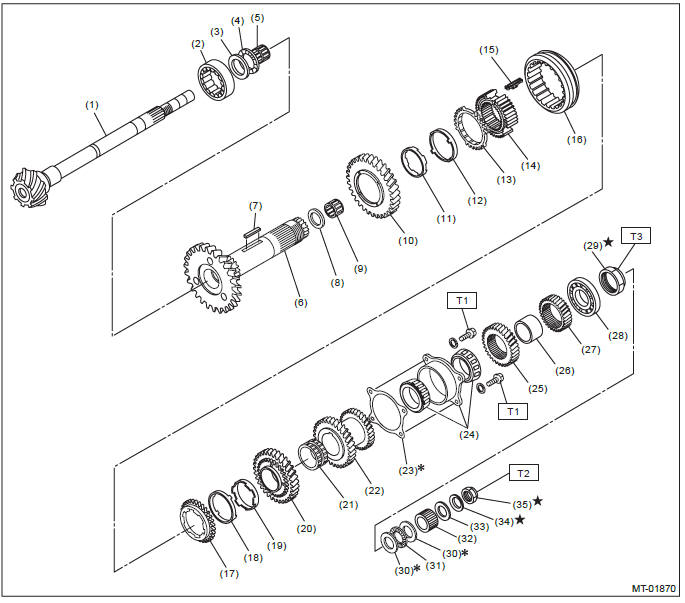 Drive pinion shaft
Roller bearing
Washer
Thrust bearing
Needle bearing
Driven shaft
Key
Drive pinion collar
Needle bearing
1st driven gear
Inner baulk ring
1st synchro cone
Outer baulk ring
1st-2nd synchronizer hub
1st-2nd shifting insert key
1st-2nd coupling sleeve
Outer baulk ring
2nd synchro cone
Inner baulk ring
2nd driven gear
2nd driven gear bushing
3rd-4th driven gear
Drive pinion shim
Double taper roller bearing
5th driven gear
Drive pinion spacer
6th driven gear
Ball bearing
Lock nut
Adjusting washer
Thrust bearing
Differential bevel gear sleeve
Adjusting washer
Lock washer
Lock nut
Tightening torque: N*m (kgf-m, ft-lb)
T1: 30 (3.1, 22.1)
T2: 126 (12.8, 92.9)
T3: 440 (44.9, 324.5)
3. MAIN SHAFT FOR SINGLE-RANGE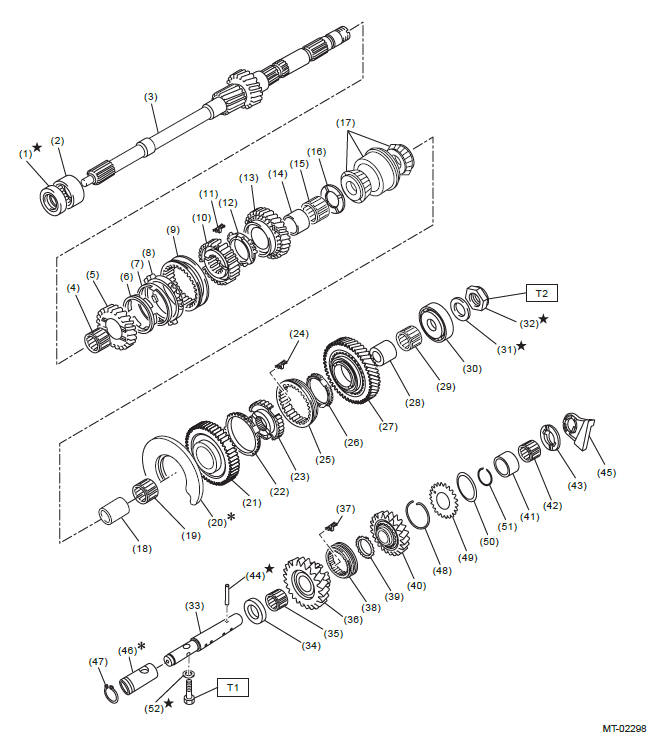 Oil seal
Needle bearing
Transmission main shaft
Needle bearing
3rd drive gear
Inner baulk ring
3rd synchro cone
Outer baulk ring
3rd-4th coupling sleeve
3rd-4th synchronizer hub
3rd-4th shifting insert key
4th baulk ring
4th drive gear
4th needle bearing race
Needle bearing
4th gear thrust washer
Double taper roller bearing
5th needle bearing race
Needle bearing
Main shaft rear plate
5th drive gear
5th baulk ring
5th-6th synchronizer hub
5th-6th shifting insert key
5th-6th coupling sleeve
6th baulk ring
6th drive gear
6th needle bearing race
Needle bearing
Ball bearing
Lock washer
Lock nut
Reverse idler gear shaft
Washer
Needle bearing
Reverse idler gear No. 2
Reverse shifting insert key
Reverse coupling sleeve
Baulk ring
Reverse idler gear
Reverse idler gear collar
Needle bearing
Washer
Straight pin
Oil case guide
Reverse idler gear bushing
Snap ring
Reverse idler spring
Reverse idler sub gear
Friction plate
Snap ring
Gasket
Tightening torque: N*m (kgf-m, ft-lb)
T1: 25 (2.5, 18.4)
T2: 160 (16.3, 118.0)
4. SHIFTER FORK AND SHIFTER ROD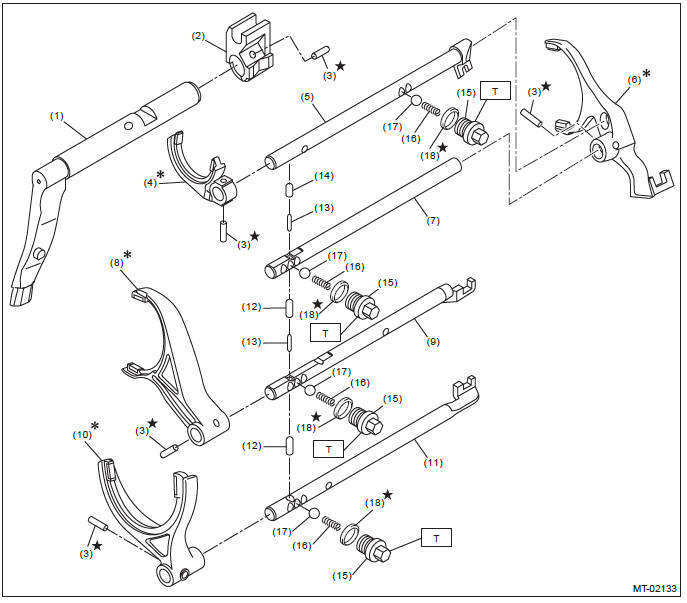 Shifter arm
Selector arm
Spring pin
Reverse shifter fork
Reverse fork rod
5th-6th shifter fork
5th-6th fork rod
3rd-4th shifter fork
3rd-4th fork rod
1st-2nd shifter fork
1st-2nd fork rod
Interlock plunger
Interlock plunger
Interlock plunger
Checking ball plug
Checking ball spring
Check ball
Gasket
Tightening torque: N*m (kgf-m, ft-lb)
T: 20 (2.0, 14.8)
5. TRANSFER CASE AND EXTENSION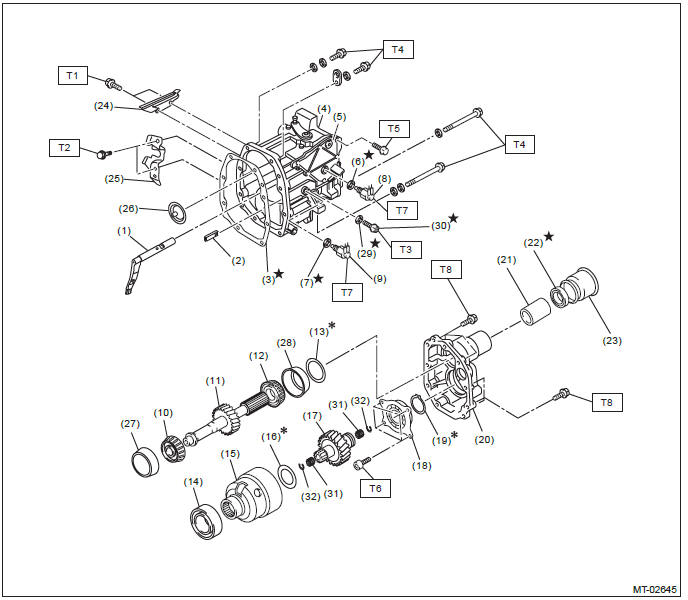 Shifter arm
Interlock plate
Gasket
Transfer case
Transmission cover
Gasket
Gasket
Neutral position switch
Back-up light switch
Roller bearing
Transfer driven gear
Roller bearing
Adjusting washer
Ball bearing
Center differential
Adjusting washer
Transfer drive gear
Ball bearing
Snap ring
Extension case
Bushing
Oil seal
Dust cover
Dust cover (OUTBACK model)
Shift bracket
Oil guide
Outer race
Outer race
Gasket
Precoat bolt
Needle bearing
Snap ring
Tightening torque: N*m (kgf-m, ft-lb)
T1: x15 (1.5, 11.1)
T2: 18 (1.8, 13.3)
T3: T3:
T4: 24.5 (2.5, 18.1)
T5: 25 (2.5, 18.4)
T6: 26 (2.7, 19.2)
T6: 26 (2.7, 19.2)
T8: 40 (4.1, 29.5)
6. SHIFT LINK ASSEMBLY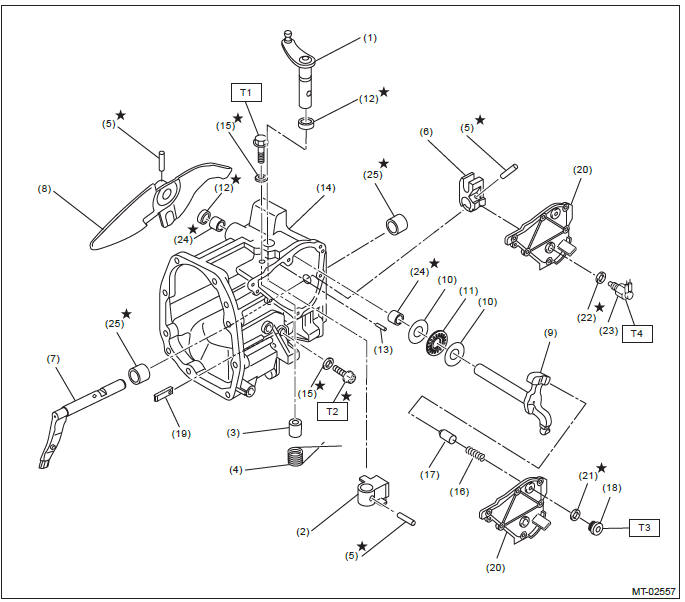 Selector lever COMPL
Selector arm No. 2
Shifter arm collar
Neutral set spring
Spring pin
Selector arm
Shifter arm
Shift lever COMPL
Shifter arm No. 2
Washer
Thrust bearing
Oil seal
Straight pin
Transfer case
Gasket
Checking ball spring
Plunger
Seal bolt
Interlock plate
Transmission cover
Seal ring
Gasket
Neutral position switch
Needle bearing
Roller bearing
Tightening torque: N*m (kgf-m, ft-lb)
T1: 6.4 (0.7, 4.7)
T2: 20 (2.0, 14.8)
T3: 25 (2.5, 18.4)
T4: 32.3 (3.3, 23.8)
7. FRONT DIFFERENTIAL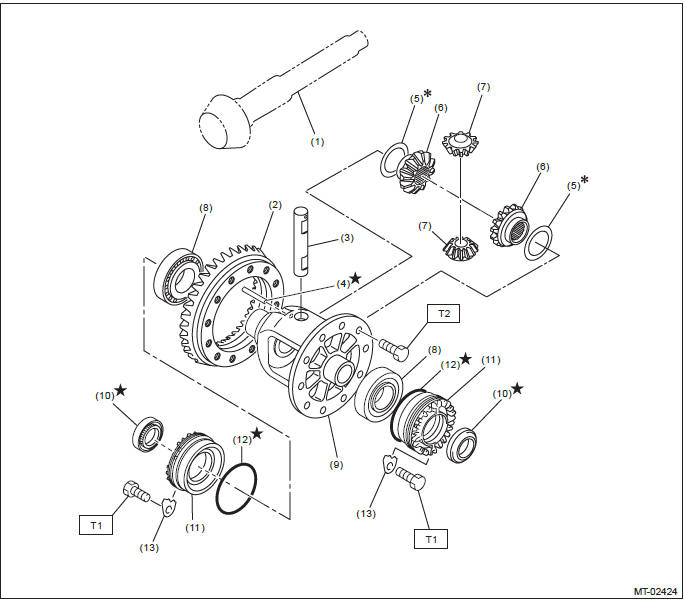 Drive pinion shaft
Hypoid driven gear
Pinion shaft
Straight pin
Washer
Differential bevel gear
Differential bevel pinion
Roller bearing
Differential case
Oil seal
Differential side retainer
O-ring
Retainer lock plate
Tightening torque: N*m (kgf-m, ft-lb)
T1: 25 (2.5, 18.4)
T2: 62 (6.3, 45.7)
8. TRANSMISSION MOUNTING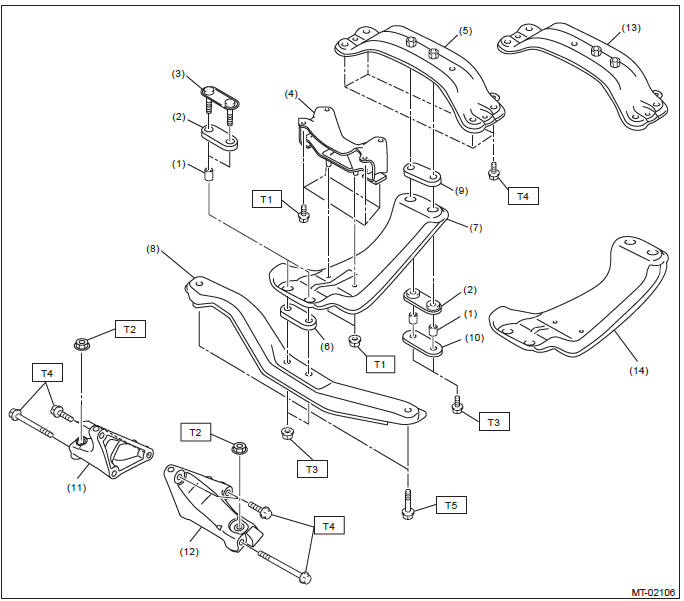 Spacer
Lower cushion rubber
Front plate
Transmission cushion rubber
Rear crossmember (turbo model)
Upper cushion rubber
Center crossmember (turbo model)
Front crossmember
Rear cushion rubber
Rear plate
Transmission main mounting bracket (RH)
Transmission main mounting bracket (LH)
Rear crossmember (non-turbo model)
Center crossmember (non-turbo model)
Tightening torque: N*m (kgf-m, ft-lb)
T1: 35 (3.6, 25.8)
T2: 45 (4.6, 33.2)
T3: 70 (7.1, 51.6)
T4: 75 (7.6, 55.3)
T5: 140 (14.3, 103.3)
C: CAUTION
Wear appropriate work clothing, including a cap, protective goggles and protective shoes when performing any work.
Remove contamination including dirt and corrosion before removal, installation or disassembly.
Keep the disassembled parts in order and protect them from dust and dirt.
Before removal, installation or disassembly, be sure to clarify the failure. Avoid unnecessary removal, installation, disassembly and replacement.
When disassembling the case and other light alloy parts, use a plastic hammer to force it apart. Do not pry apart with screwdrivers or other tools.
Vehicle components are extremely hot after driving.

Be wary of receiving burns from heated parts.

Use SUBARU genuine gear oil, grease or equivalent.

Do not mix gear oil, grease, etc. of different grades or manufacturers.

Be sure to tighten fasteners including bolts and nuts to the specified torque.
Place shop jacks or rigid racks at the specified points.
Apply gear oil onto sliding or revolving surfaces before installation.
Replace deformed or damaged snap rings with new parts.
Before installing O-rings or oil seals, apply sufficient amount of gear oil to avoid damage and deformation.
Be careful not to incorrectly install or fail to install O-rings, snap rings and other such parts.
Before securing a part on a vise, place cushioning material such as wood blocks, aluminum plate, or cloth between the part and the vise.
Avoid damaging the mating surface of the case.
Before applying liquid gasket, completely remove the old liquid gasket.
D: PREPARATION TOOL
1. SPECIAL TOOL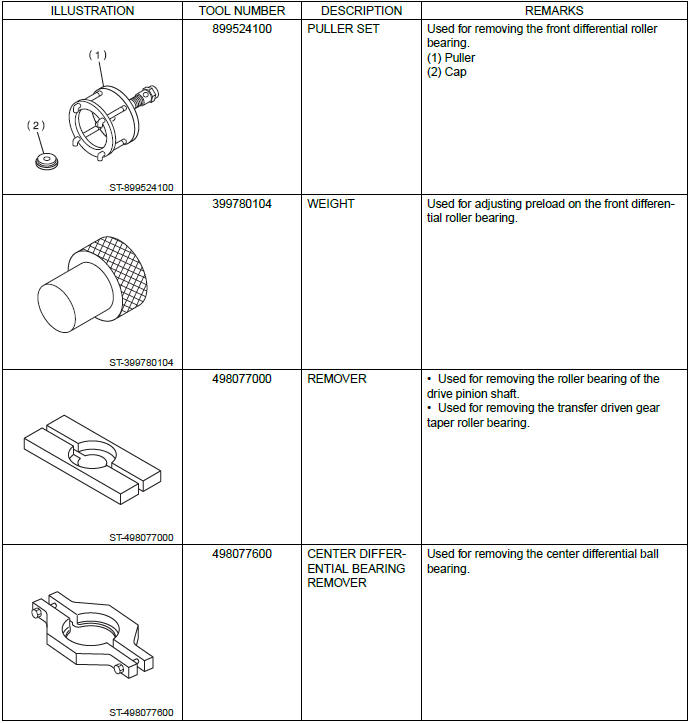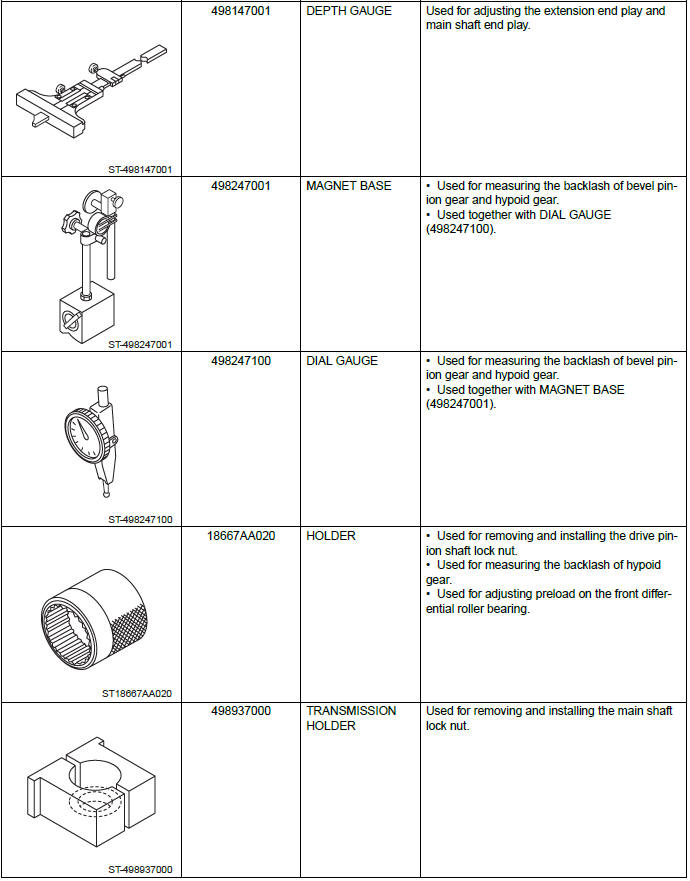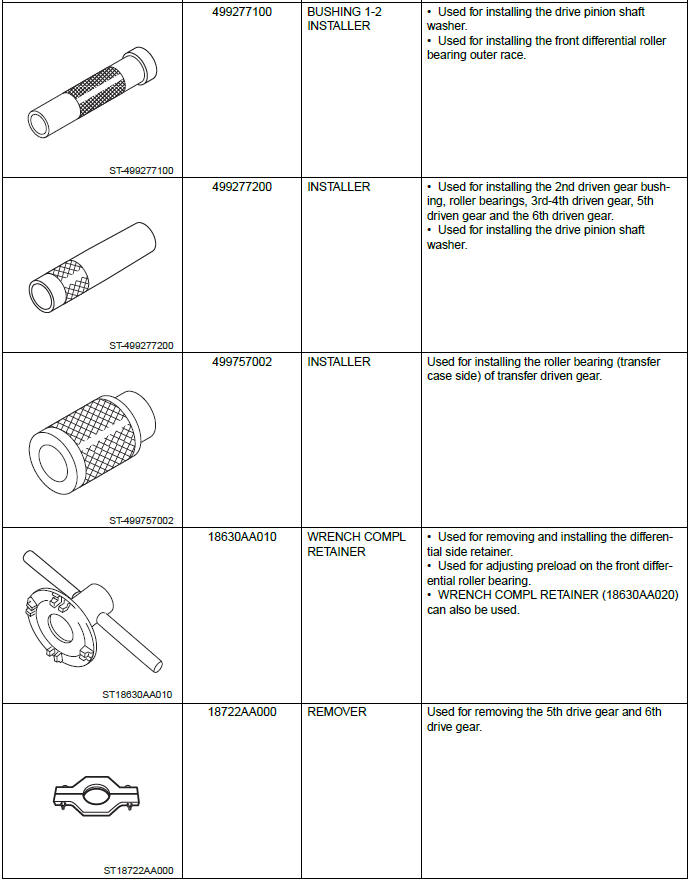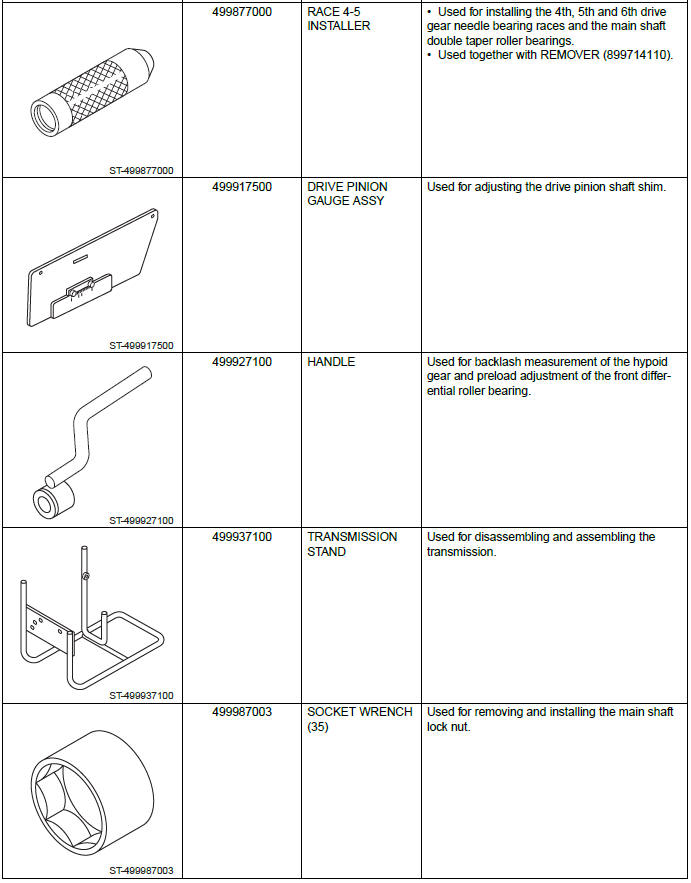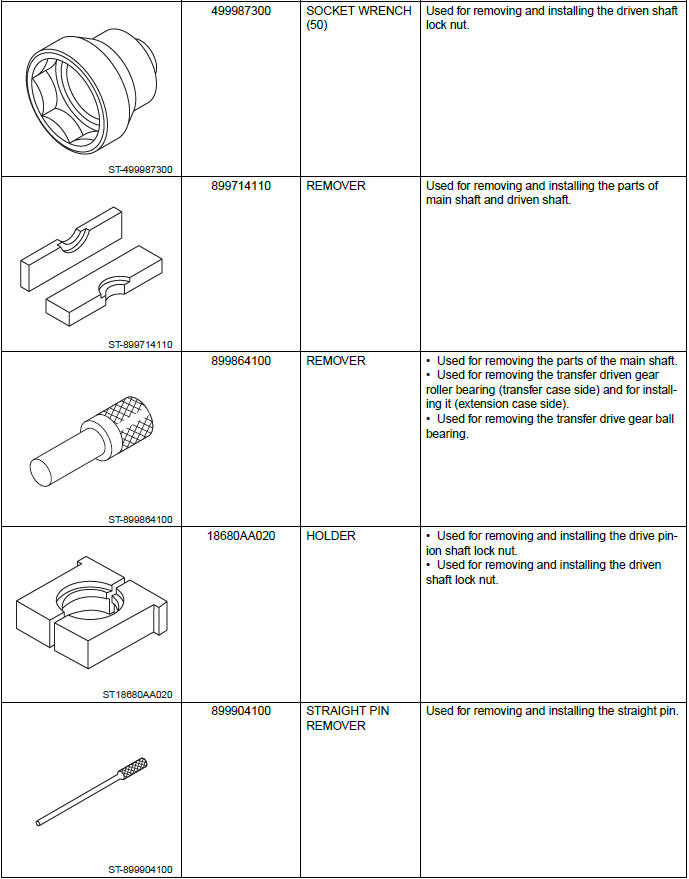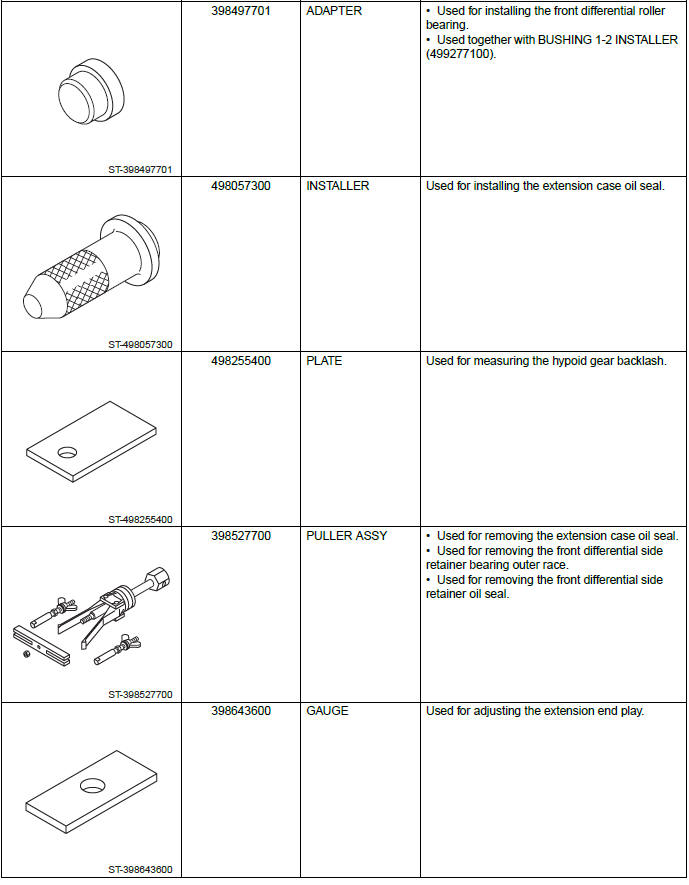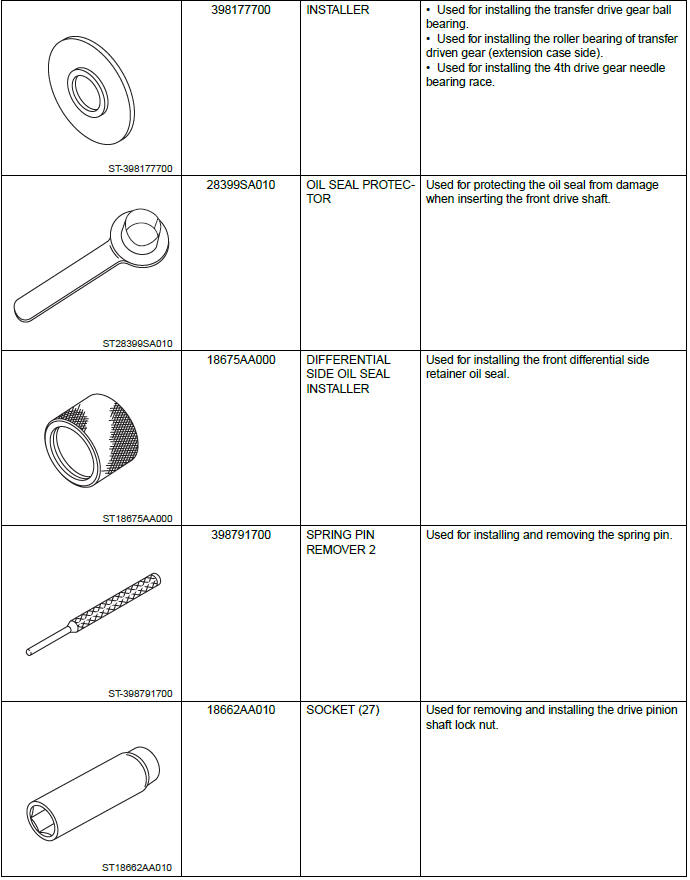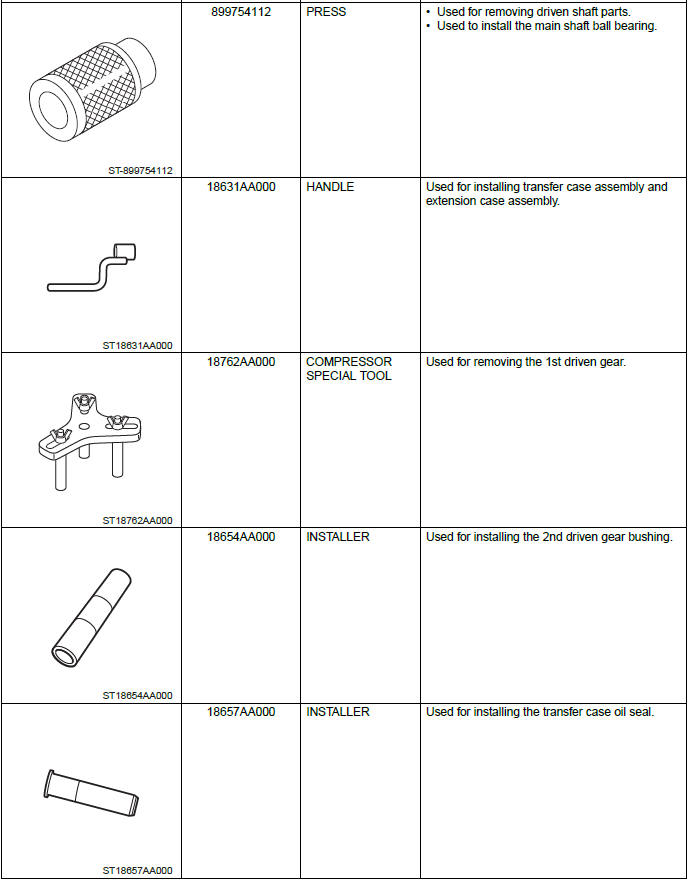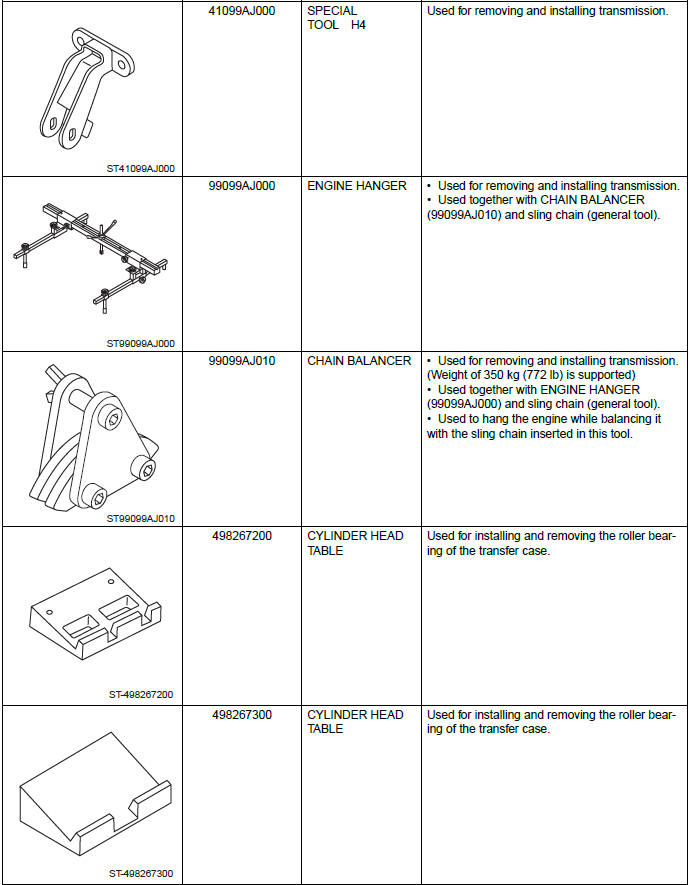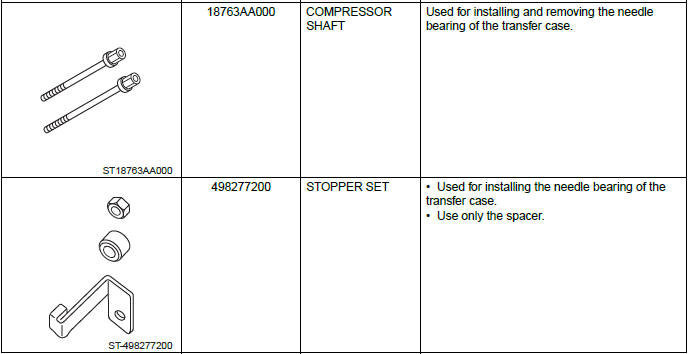 2. GENERAL TOOL

READ NEXT:
A: INSPECTION 1) Park the vehicle on a level surface. 2) Turn the ignition switch to OFF, and wait until the engine cools. 3) Remove the collector cover. (turbo model) 4) Remove the oil level gau
A: REMOVAL 1. CROSSMEMBER AND CUSHION RUBBER 1) Disconnect the ground cable from battery. 2) Lift up the vehicle. 3) Remove the front under cover. <Ref. to EI-35, REMOVAL, Front Under Cover.>
A: INSPECTION Check for transmission gear oil leaks at oil seal area. If there is an oil leak, replace the oil seal with new one and check the propeller shaft. B: REPLACEMENT 1) Remove the collector
SEE MORE:
A: REMOVAL 1) Remove the transmission assembly. <Ref. to 5AT-37, REMOVAL, Automatic Transmission Assembly.> 2) Disconnect the rear vehicle speed sensor connector. 3) Remove the rear vehicle speed sensor. 4) Remove the extension case. B: INSTALLATION 1) Attach the selected reduction driven
The illumination brightness of the clock display, audio, air conditioner, multi function display and meter/gauge dims under the following conditions. ● when the light switch is in the " " or " " position ● when the light switch is in the "AUTO" position and the headligh
© 2010-2023 Copyright www.suoutback.com