Subaru Outback: General Description
A: SPECIFICATION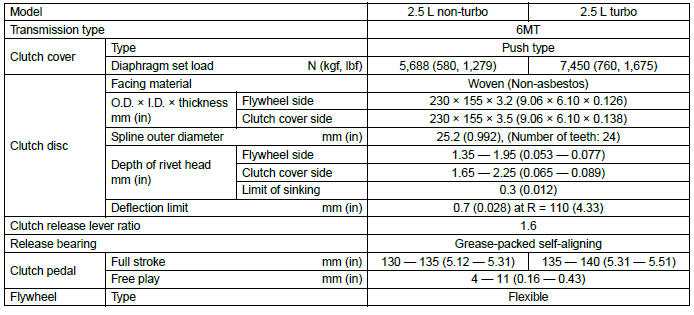 B: COMPONENT
1. CLUTCH ASSEMBLY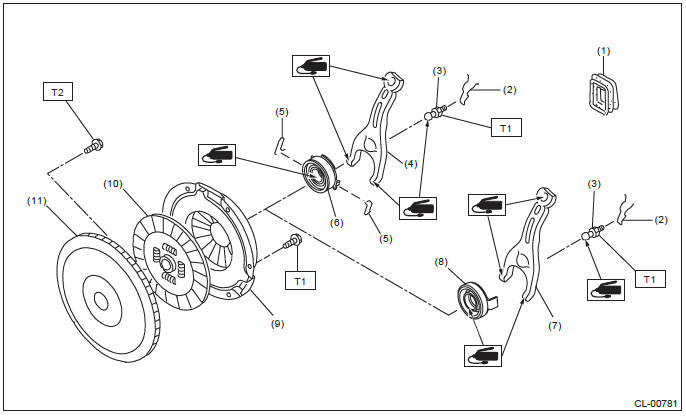 Dust cover
Lever spring
Pivot
Release lever (non-turbo model)
Clip (non-turbo model)
Release bearing (non-turbo model)
Release lever (turbo model)
Release bearing (turbo model)
Clutch cover
Clutch disc
Flexible flywheel
Tightening torque: N*m (kgf-m, ft-lb)
T1: 16 (1.6, 11.8)
T2: 75 (7.6, 55.3)
2. CLUTCH PIPE AND HOSE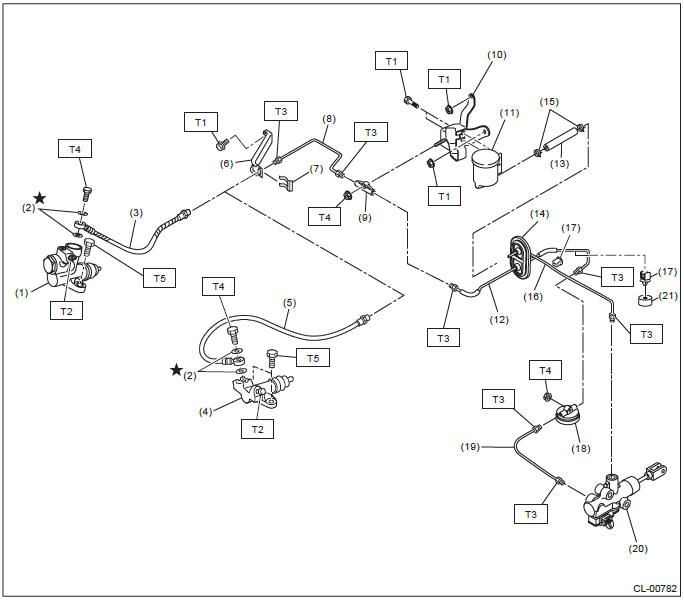 Operating cylinder (turbo model)
Washer
Clutch hose (turbo model)
Operating cylinder (non-turbo model)
Clutch hose (non-turbo model)
Clutch hose bracket
Clamp
Clutch pipe
Connector
Reservoir tank bracket
Reservoir tank
Clutch pipe
Reservoir tank hose
Clutch pipe grommet
Clamp
Clutch pipe
Clamp
Clutch damper
Clutch pipe
Master cylinder ASSY
Mass damper
Tightening torque: N*m (kgf-m, ft-lb)
T1: 7.5 (0.8, 5.5)
T2: 7.8 (0.8, 5.8)
T3: 15 (1.5, 11.1)
T4: 18 (1.8, 13.3)
T5: 37 (3.8, 27.3)
3. MASTER CYLINDER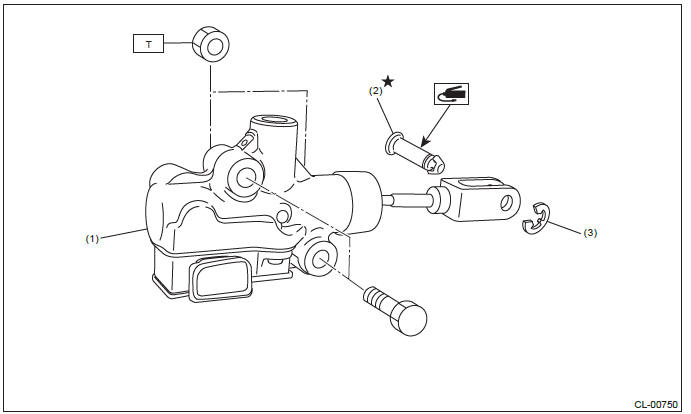 Master cylinder ASSY
Clevis pin
Clip
Tightening torque: N*m (kgf-m, ft-lb)
T: 18 (1.8, 13.3)
4. OPERATING CYLINDER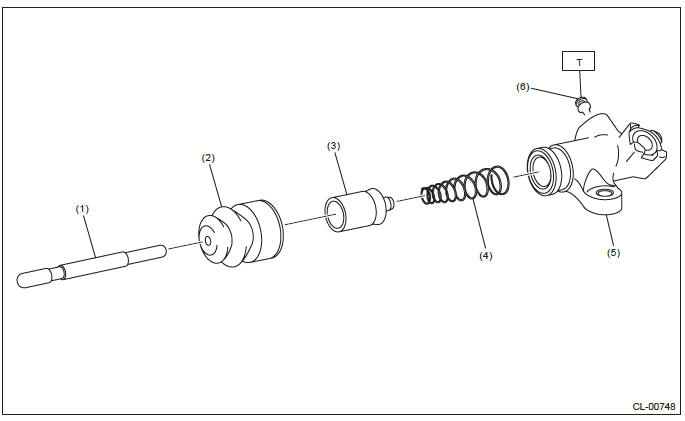 Push rod
Boot
Piston
Piston spring
Operating cylinder
Breather screw
Tightening torque: N*m (kgf-m, ft-lb)
T: 7.8 (0.8, 5.8)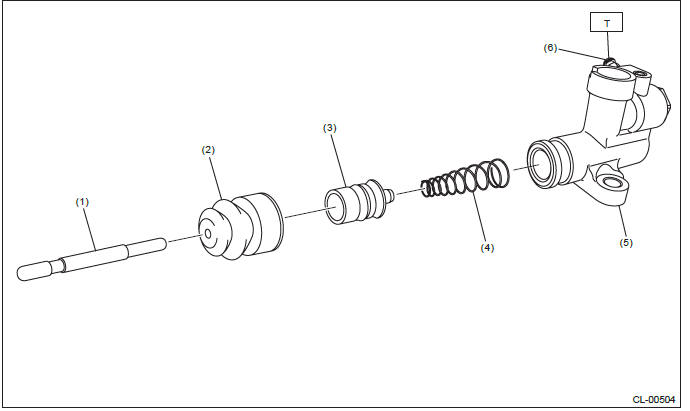 Push rod
Boot
Piston
Piston spring
Operating cylinder
Breather screw
Tightening torque: N*m (kgf-m, ft-lb)
T: 7.8 (0.8, 5.8)
5. CLUTCH PEDAL ASSEMBLY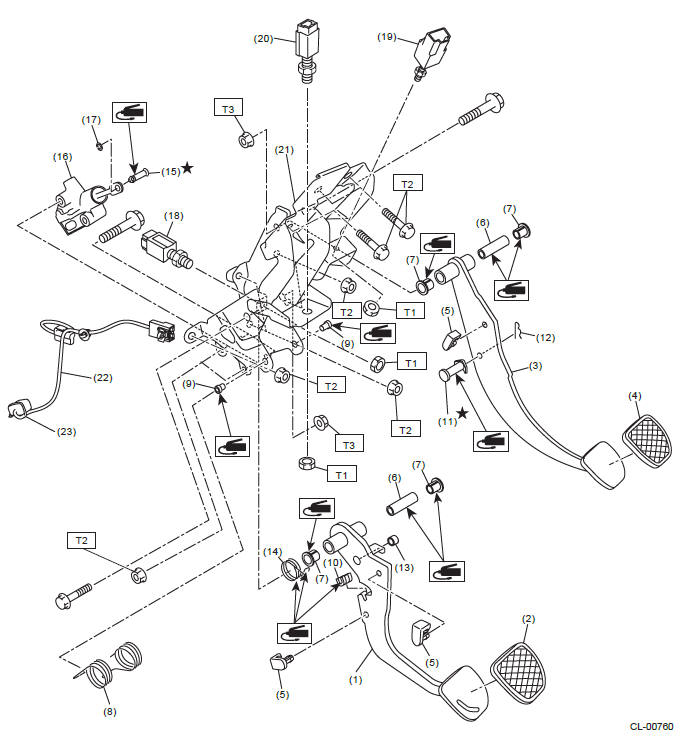 Clutch pedal
Clutch pedal pad
Brake pedal
Brake pedal pad
Stopper
Spacer
Bushing
Torsion spring
Assist bushing
Torsion spring bushing
Clevis pin
Snap pin
Bushing A
Assist spring (turbo model)
Clevis pin
Master cylinder ASSY
Clip
Clutch start switch
Stop & brake switch
Clutch switch
Pedal bracket
Sensor harness
Band
Tightening torque: N*m (kgf-m, ft-lb)
T1: 8 (0.8, 5.9)
T2: 18 (1.8, 13.3)
T3: 30 (3.1, 22.1)
C: CAUTION
Wear appropriate work clothing, including a cap, protective goggles and protective shoes when performing any work.
Remove contamination including dirt and corrosion before removal, installation or disassembly.
Keep the disassembled parts in order and protect them from dust and dirt.
Before removal, installation or disassembly, be sure to clarify the failure. Avoid unnecessary removal, installation, disassembly and replacement.
Vehicle components are extremely hot after driving. Be wary of receiving burns from heated parts.
Use SUBARU genuine fluid, grease etc. or equivalent. Do not mix fluid, grease, etc. of different grades or manufacturers.
Be sure to tighten fasteners including bolts and nuts to the specified torque.
Place shop jacks or rigid racks at the specified points.
Apply grease onto sliding or revolving surfaces before installation.
Before installing O-rings or snap rings, apply sufficient amount of fluid to avoid damage and deformation.
Before securing a part in a vise, place cushioning material such as wood blocks, aluminum plate or cloth between the part and the vise.
Keep fluids away from the vehicle body. If any fluid contacts the vehicle body, immediately flush the area with water.
D: PREPARATION TOOL
1. SPECIAL TOOL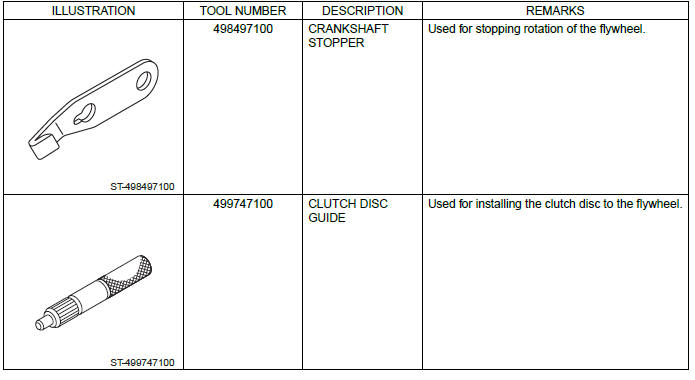 2. GENERAL TOOL

READ NEXT:
A: REMOVAL 1) Remove the transmission assembly from vehicle body. <Ref. to 6MT-25, REMOVAL, Manual Transmission Assembly.> 2) Attach the ST to the flywheel. ST 499747100 CLUTCH DISC GUIDE C
A: REMOVAL 1) Remove the transmission assembly. <Ref. to 6MT-25, REMOVAL, Manual Transmission Assembly.> 2) Remove the clutch cover and clutch disc. <Ref. to CL-11, REMOVAL, Clutch Disc and
A: REMOVAL NOTE: The illustration below is suitable for every model. Perform the same procedures for the other models. 1) Remove the collector cover. (turbo model) 2) Remove the air intake boot ass
SEE MORE:
A: REMOVAL 1. FRONT HOOD INSULATOR Release the clips to remove the front hood insulator. CAUTION: Do not reuse any clips damaged during removal. The damaged clip cannot fix the insulator securely. Therefore, always replace with a new part. 2. FRONT HOOD SEAL Remove the clip, and remove the seal.
WARNING ● Avoid fire hazards. Do not drive or park the vehicle anywhere near flammable materials (e.g. grass, paper, rags or leaves), because the catalytic converter operates at very high temperatures. ● Keep everyone and flammable materials away from the exhaust pipe while the e
© 2010-2022 Copyright www.suoutback.com