Subaru Outback: General Description
A: SPECIFICATION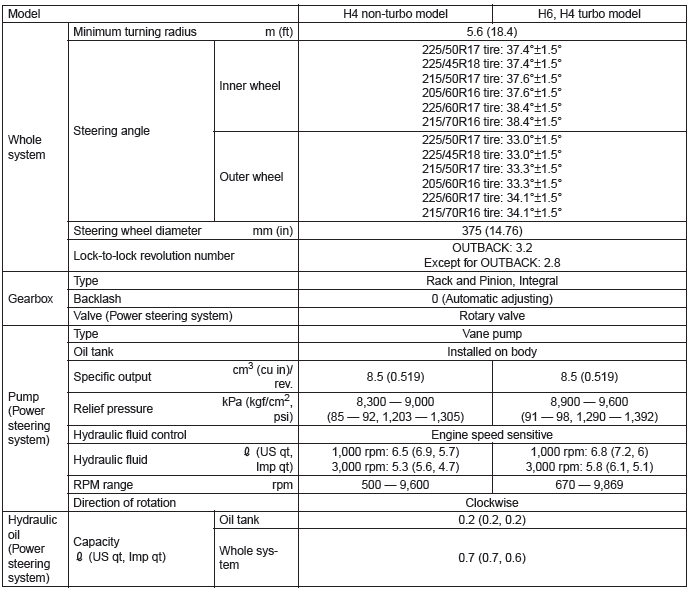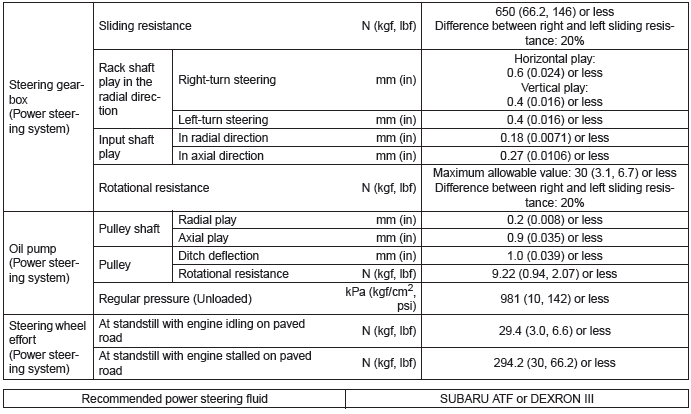 B: COMPONENT
1. STEERING WHEEL AND COLUMN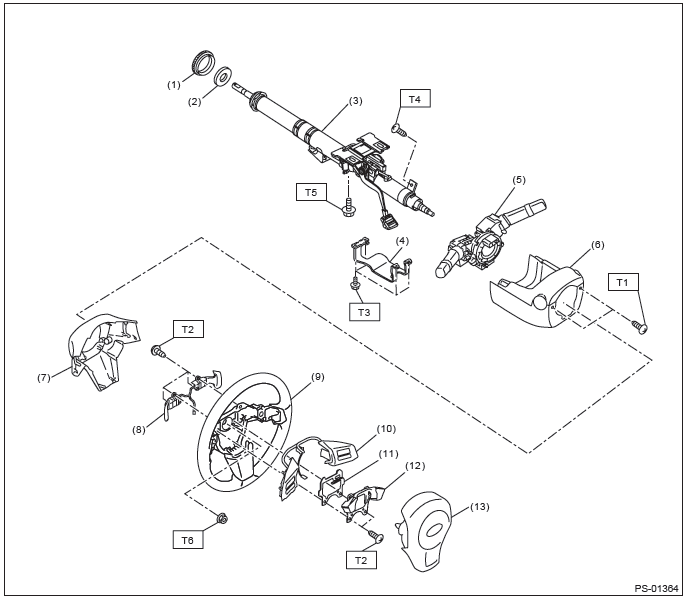 Bushing
Insulator (CVT model)
Steering shaft
Knee protector
Steering roll connector
Column cover
Steering wheel lower cover
Paddle shift
Steering wheel
Switch
Protector
Dynamic damper
Airbag module
Tightening torque:N*m (kgf-m, ft-lb)
T1: 1.2 (0.12, 0.9)
T2: 1.7 (0.17, 1.3)
T3: 3.4 (0.35, 2.5)
T4: 3.5 (0.36, 2.6)
T5: 20 (2.04, 14.8)
T6: 39 (3.98, 28.8)
2. HOSE AND TANK
Cap
Reservoir tank
Clip
Return hose
Clip
Hose ASSY
Eye bolt
Eye bolt gasket
Oil pump
Clip
Suction hose
Tightening torque:N*m (kgf-m, ft-lb)
T1: 7.5 (0.76, 5.5)
T2: 10 (1.02, 7.4)
T3: 13 (1.33, 9.6)
T4: 40 (4.08, 29.5)
3. STEERING GEARBOX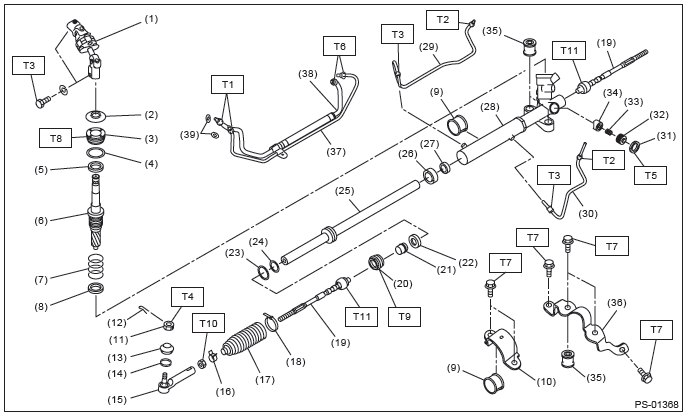 Universal joint
Dust cover
Plug
O-ring
Oil seal
Control valve
Seal ring
Oil seal
Adapter
Clamp
Castle nut
Cotter pin
Dust seal
Clip
Tie-rod end
Clip
Boot
Band
Tie-rod
Holder
Bushing
Oil seal
Seal ring
O-ring
Rack
Oil seal
Back-up ring
Steering body
Pipe A
Pipe B
Lock nut
Adjusting screw
Spring
Sleeve
Bushing
Stiffener
Feed pipe
Return pipe
O-ring
Tightening torque:N*m (kgf-m, ft-lb)
T1: 15 (1.53, 11.1)
T2: 20 (2.04, 14.8)
T3: 24 (2.45, 17.7)
T4: 27 (2.75, 19.9)
T5: 39 (3.98, 28.8)
T6: 45 (4.59, 33.2)
T7: 60 (6.12, 44.3)
T8: 64 (6.53, 47.2)
T9: 75 (7.65, 55.3)
T10: 85 (8.67, 62.7)
T11: 90 (9.18, 66.4)
4. OIL PUMP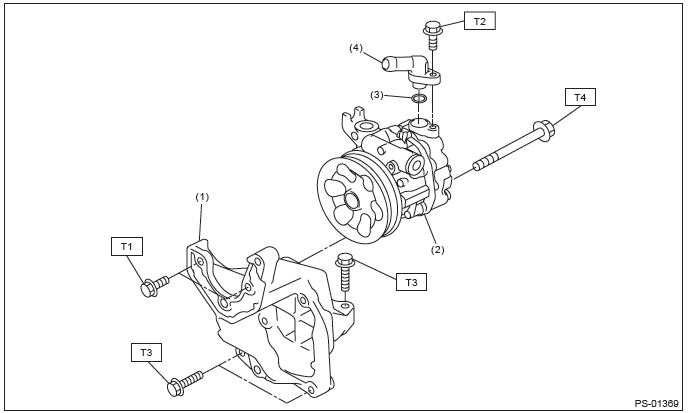 Bracket
Oil pump
O-ring
Joint
Tightening torque:N*m (kgf-m, ft-lb)
T1: 16 (1.63, 11.8)
T2: 21 (2.14, 15.5)
T3: 22 (2.24, 16.2)
T4: 36 (3.67, 26.6)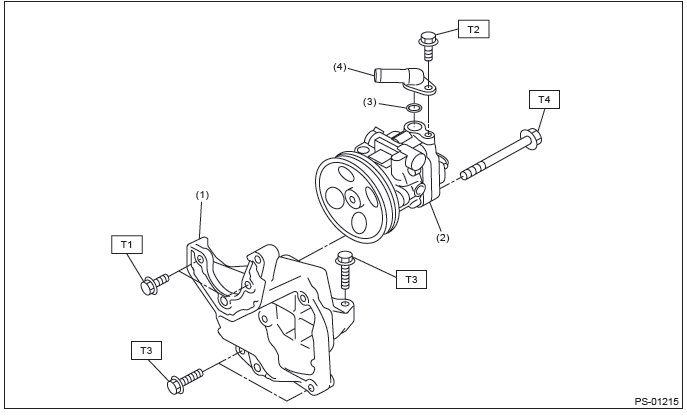 Bracket
Oil pump
O-ring
Joint
Tightening torque:N*m (kgf-m, ft-lb)
T1: 16 (1.63, 11.8)
T2: 21 (2.14, 15.5)
T3: 22 (2.24, 15.9)
T3: 22 (2.24, 15.9)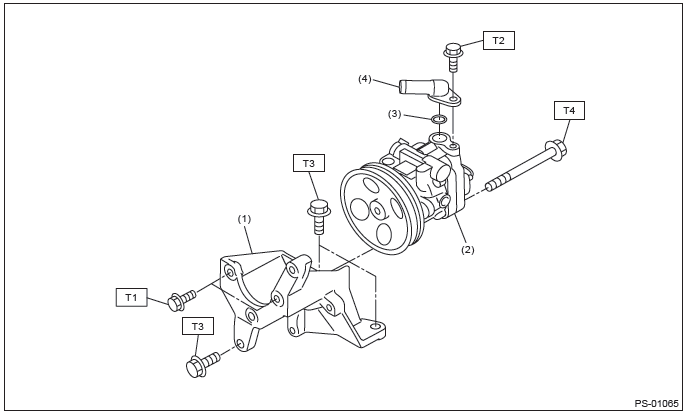 Bracket
Oil pump
O-ring
Joint
Tightening torque:N*m (kgf-m, ft-lb)
T1: 16 (1.63, 11.8)
T2: 21 (2.14, 15.5)
T3: 33 (3.36, 24.3)
T4: 36 (3.67, 26.6)
C: CAUTION
Wear appropriate work clothing, including a helmet, protective goggles and protective shoes when performing any work.
Before removal, installation or disassembly, be sure to clarify the failure. Avoid unnecessary removal, installation, disassembly and replacement.
Vehicle components are extremely hot after driving. Be wary of receiving burns from heated parts.
Use grease and oil of Subaru genuine or the equivalent products. Do not mix them of different grades or manufacturers.
Be sure to tighten fasteners including bolts and nuts to the specified torque.
Place shop jacks or rigid racks at the specified points.
Before securing a part on a vise, place cushioning material such as wooden blocks, aluminum plate or cloth between the part and the vise.
D: PREPARATION TOOL
1. SPECIAL TOOL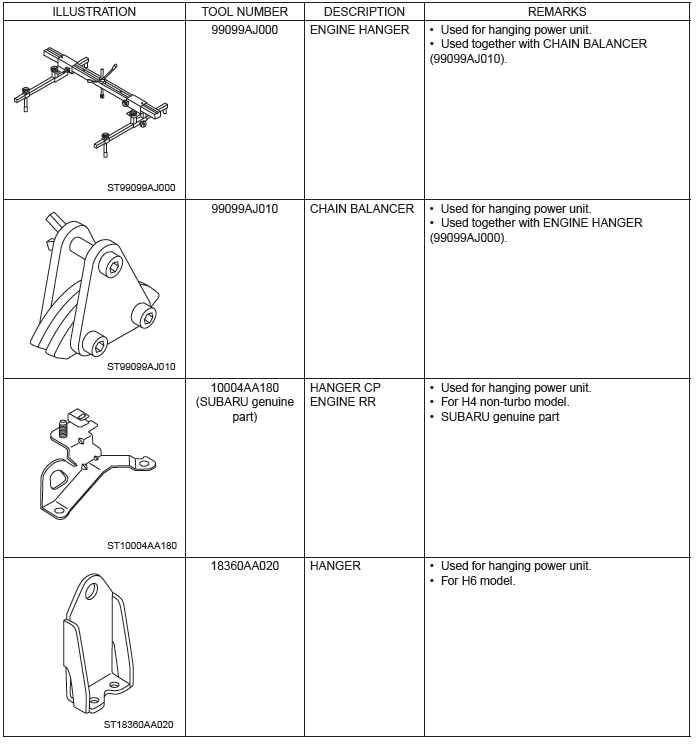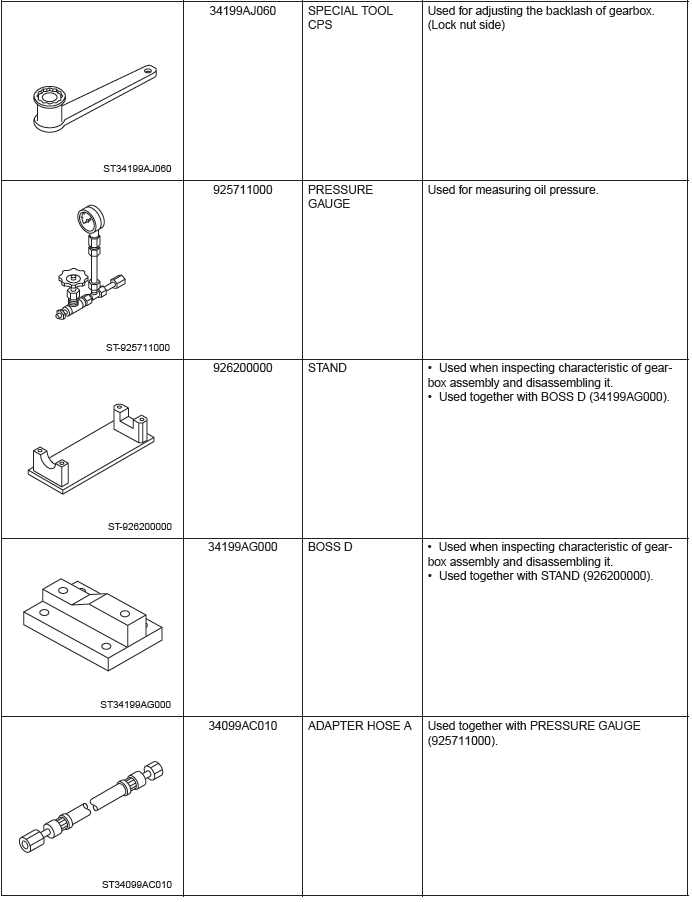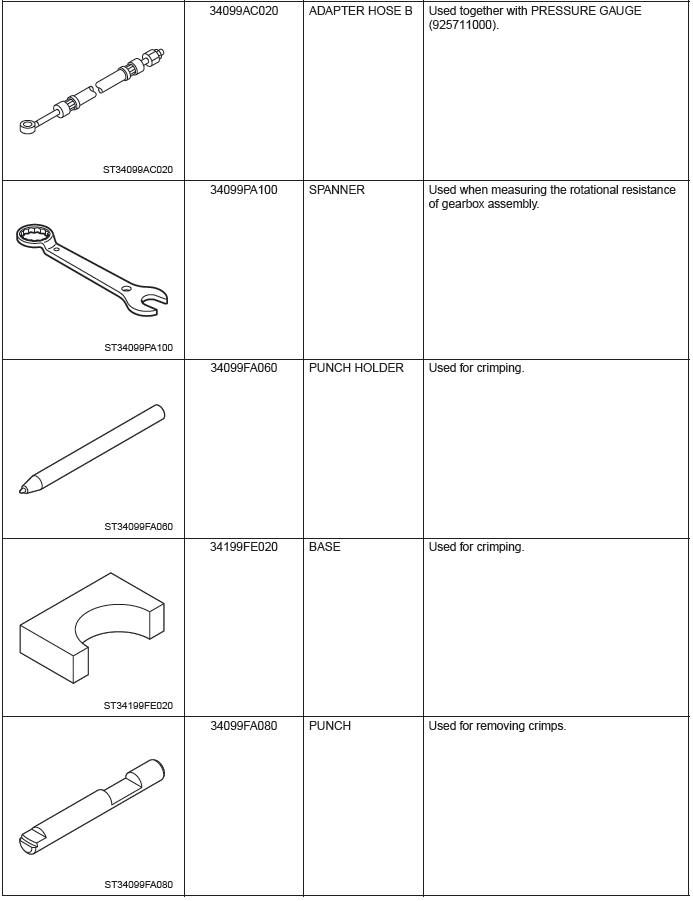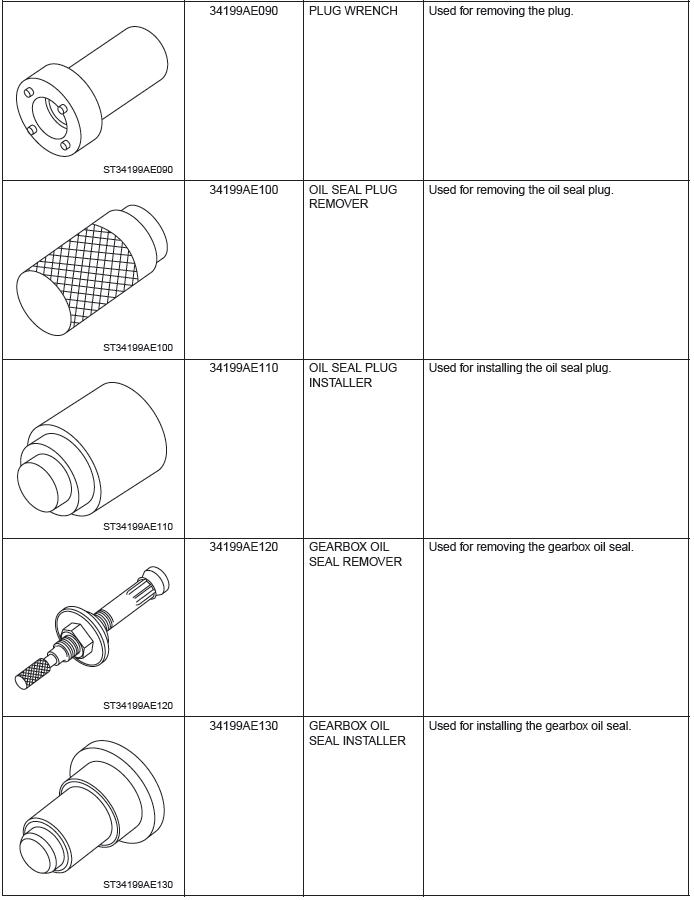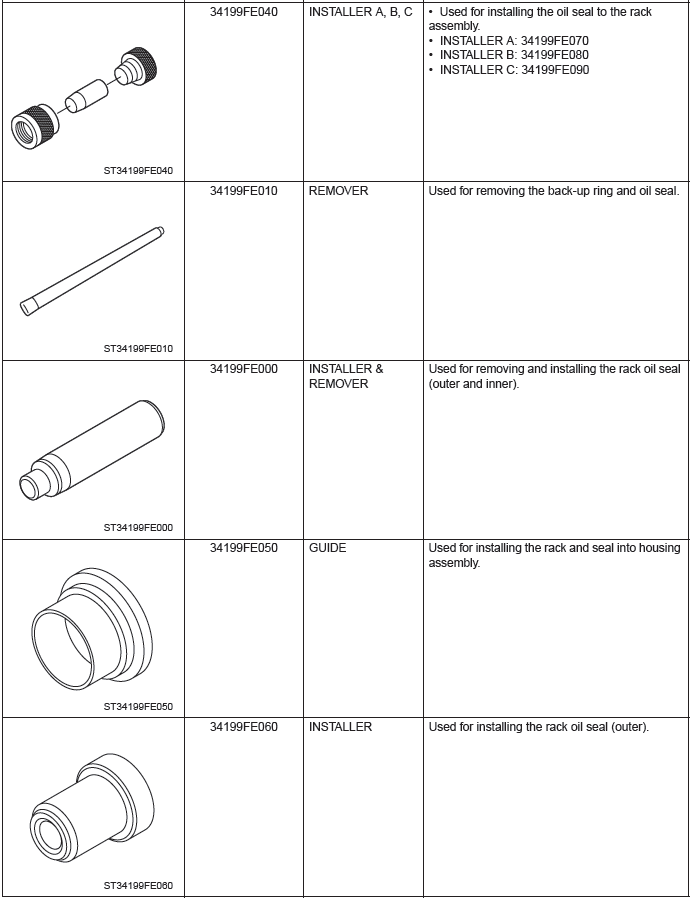 2. GENERAL TOOL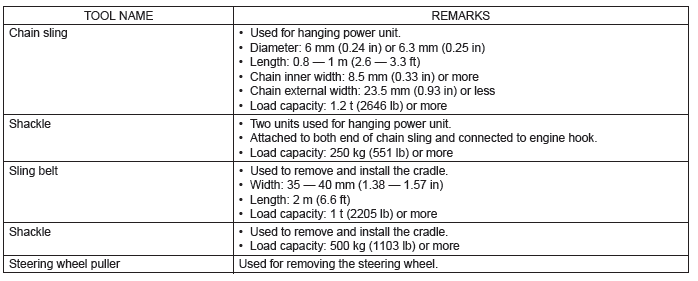 READ NEXT:
A: REMOVAL 1) Disconnect the negative terminal from the battery, and wait for 60 seconds or more. 2) Set the tire to the straight-ahead position. 3) Remove the driver's airbag module assembly. Pu
A: REMOVAL 1) Adjust the tilt position of the steering column to the lowest position and lock the tilt lever. 2) Prevent the steering wheel from turning using the seat belt. 3) Remove the universal
A: REMOVAL 1) Adjust the tilt position to the lowest position and lock the tilt lever. 2) Remove the driver's airbag module assembly. Push in the snap pin using a hexagon wrench or equivalent wrapp
SEE MORE:
A: REMOVAL CAUTION: Directly after the vehicle has been running or the engine has been long idle running, the CVTF is hot. Be careful not to burn yourself. Be careful not to spill CVTF on the exhaust pipe to prevent it from emitting smoke or causing a fire. If gear oil adheres, wipe it off
A: COMPONENT 1. DOOR LOCK ASSEMBLY Front Rear Inner remote ASSY Front door latch and door lock actuator ASSY Door outer handle Door outer handle cover Key cylinder (driver's side only) Door outer handle spacer Front door outer handle frame ASSY Striker Rear door latch and door lock
© 2010-2023 Copyright www.suoutback.com