Subaru Outback: General Description
A: SPECIFICATION
1. HEATER SYSTEM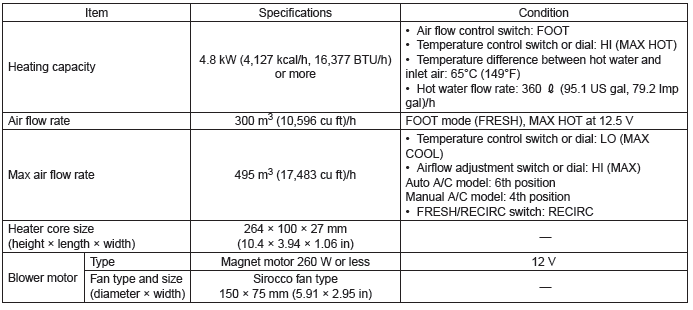 2. A/C SYSTEM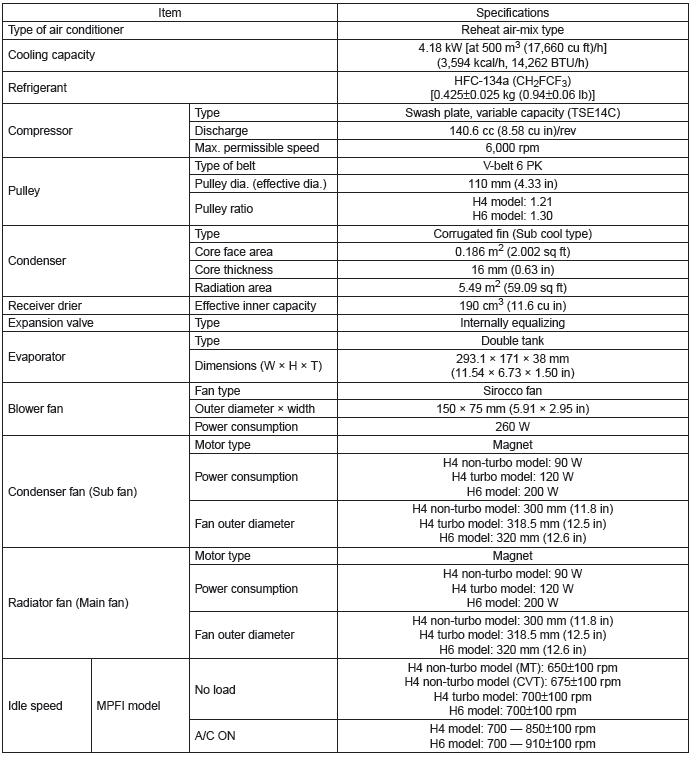 3. BASIC OPERATION
The cooling system cools down the compartment by using the pipes connecting parts and cycling the evaporable liquid (refrigerant) within the sealed system in a repeated process of "vaporization - liquefaction - re-vaporization".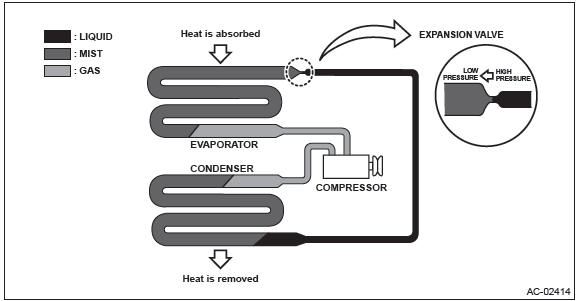 B: LOCATION
1. ELECTRICAL PARTS (ACTUATORS AND SENSORS)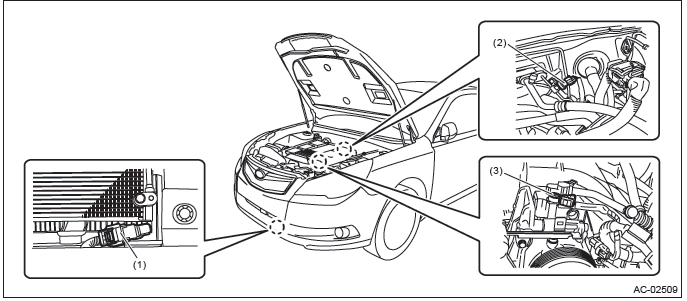 Ambient sensor
Pressure sensor
Flow sensor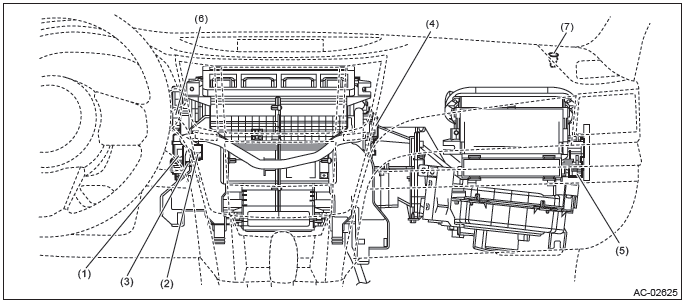 Air mix door actuator (driver's seat)
In-vehicle sensor
Evaporator sensor
Air mix door actuator (passenger's seat)
Intake door actuator
Mode door actuator
Sunload sensor
C: COMPONENT
1. HEATER COOLING UNIT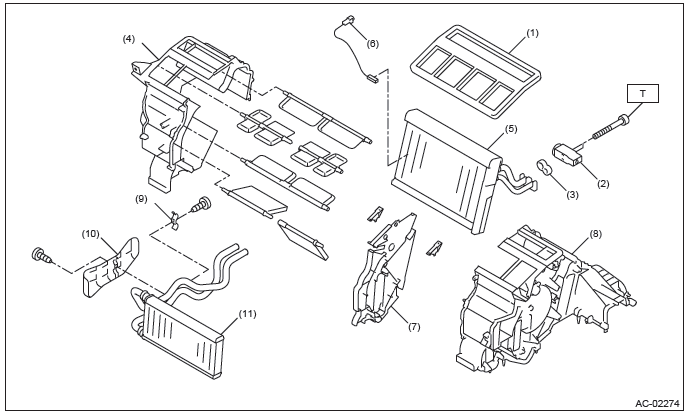 Lining
Expansion valve
Gasket
Heater case LH
Evaporator
Evaporator sensor
Center plate
Heater case RH
Heater pipe clamp
Heater pipe cover
Heater core ASSY
Tightening torque: N*m (kgf-m, ft-lb)
T: 3.5 (0.36, 2.6)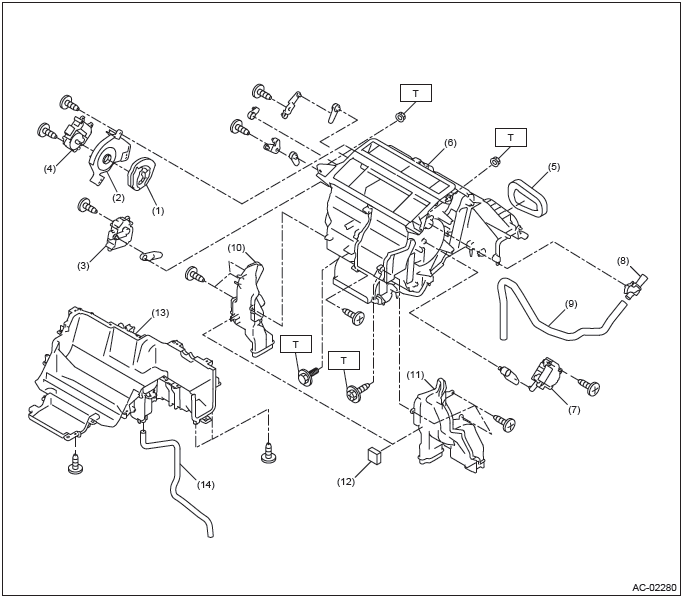 Mode main lever
Cover
Air mix actuator (driver's seat)
Mode actuator
Gasket
Unit ASSY
Air mix actuator (passenger's seat)
Aspirator
Aspirator hose
Foot duct LH
Foot duct RH
Gasket
Heater case lower
Drain hose
Tightening torque: N*m (kgf-m, ft-lb)
T: 7.5 (0.76, 5.5)
2. BLOWER MOTOR UNIT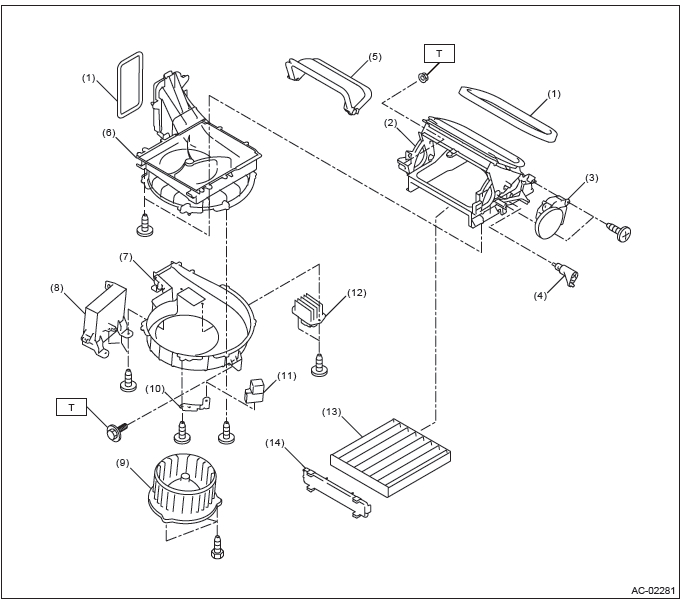 Gasket
Air duct cover ASSY
Intake door actuator
Intake door link
FRESH/RECIRC door
Upper case
Lower case
Control module
Blower motor ASSY
Relay holder bracket
Blower motor relay
Power transistor (auto A/C model) or resistor (manual A/C)
Filter
Filter cover
Tightening torque: N*m (kgf-m, ft-lb)
T: 7.5 (0.76, 5.5)
3. CONTROL MODULE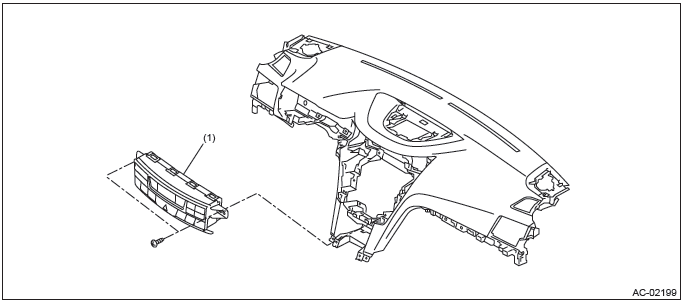 Control module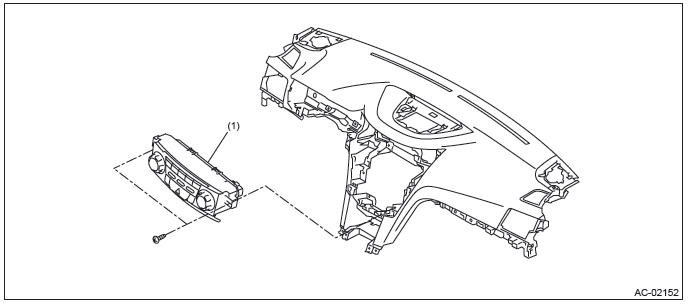 Control module
4. AIR CONDITIONING UNIT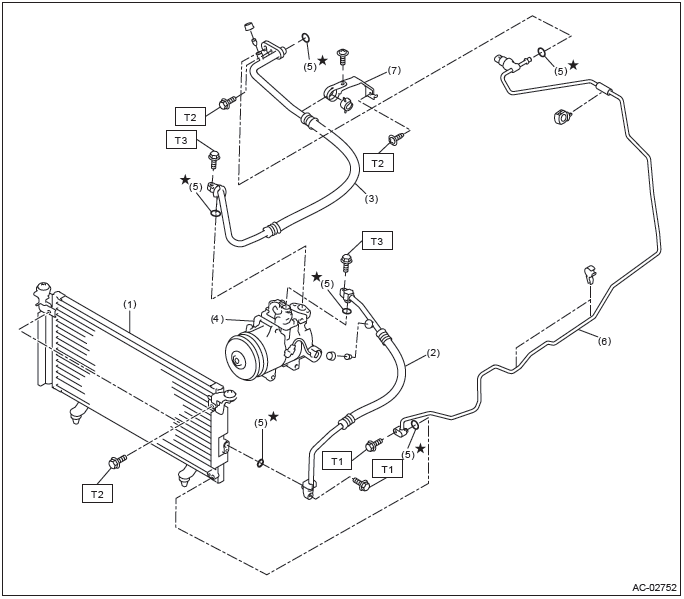 Condenser
Hose (high-pressure)
Hose (low-pressure)
Compressor
O-ring
Pipe
Bracket
Tightening torque: N*m (kgf-m, ft-lb)
T1: 5 (0.51, 3.7)
T2: 7.5 (0.76, 5.5)
T3: 10 (1.02, 7.4)
5. COMPRESSOR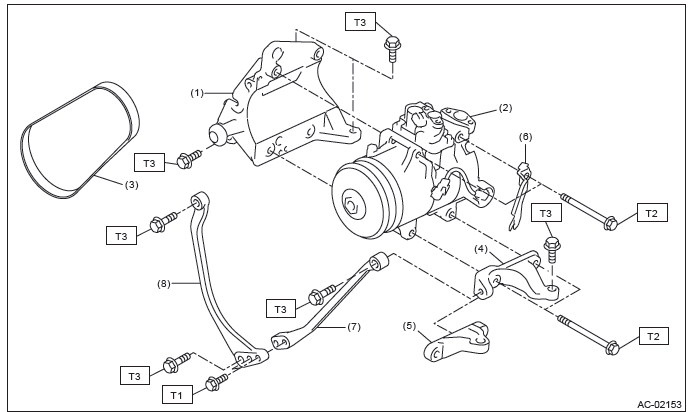 A/C compressor stay
Compressor
V-belt (6 PK)
Compressor bracket (H4 model)
Compressor bracket (H6 model)
Connector bracket
Stopper rod LH (H4 model)
Stopper rod RH (H4 model)
Tightening torque: N*m (kgf-m, ft-lb)
T1: 22 (2.24, 16.2)
T2: 26.5 (2.70, 19.5)
T3: 36 (3.67, 26.6)
6. HEATER DUCT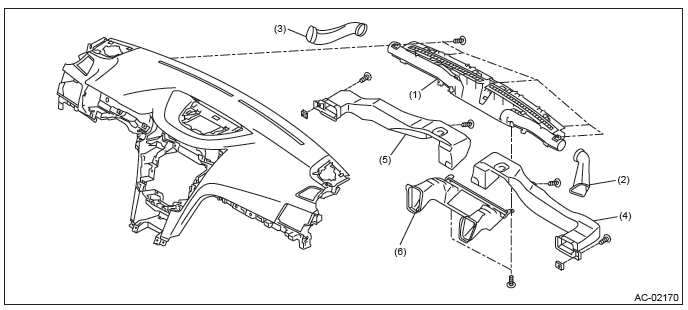 Defroster nozzle ASSY
Side defroster duct RH
Side defroster duct LH
Side vent duct RH
Side vent duct LH
Front vent duct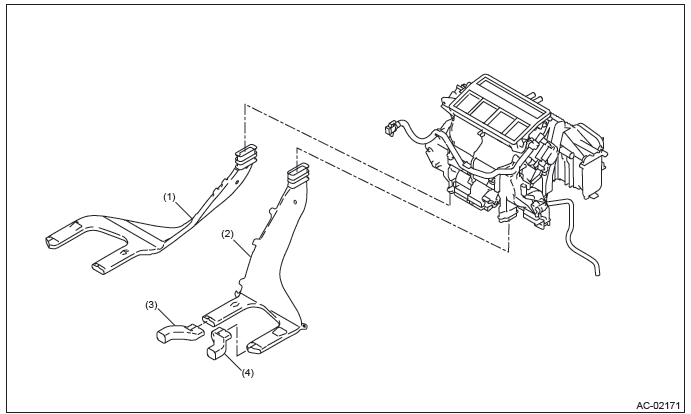 Rear heater duct LH
Rear heater duct RH
Extension duct LH
Extension duct RH
D: CAUTION
Before disassembling or reassembling parts, always disconnect the battery ground cable from battery.

When replacing the radio, control module, and other parts provided with memory functions, record the memory contents before disconnecting the battery ground cable. Otherwise, the memory is cleared.

Reassemble the parts in the reverse order of disassembly procedure unless otherwise indicated.
Connect the connectors securely during reassembly.
After reassembly, make sure that the functional parts operate normally.
1. HFC-134A A/C SYSTEM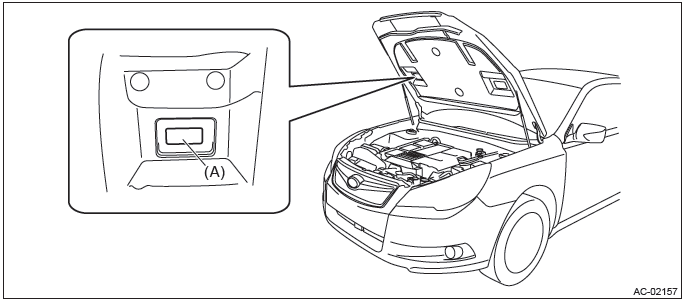 2. COMPRESSOR OIL
HFC-134a compressor oil has no compatibility with that of CFC-12 system.
Use only the manufacturer-authorized compressor oil, ND-OIL8, for the HFC-134a system.
Do not mix multiple compressor oils.

If CFC-12 compressor oil is used in the HFC-134a A/C system, the compressor may become stuck due to poor lubrication, or the refrigerant may leak due to swelling of rubber parts.

On the other hand, if HFC-134a compressor oil is used in a CFC-12 A/C system, the durability of the A/C system will be lowered.

HFC-134a compressor oil is very hygroscopic. When replacing or installing/removing A/C parts, immediately isolate the oil from atmosphere using a plug or tape. In order to avoid moisture, store the oil in a container with its cap tightly closed.
3. REFRIGERANT
CFC-12 refrigerant cannot be used in a HFC-134a A/C system. HFC-134a refrigerant, also cannot be used in a CFC-12 A/C system.
If an incorrect or no refrigerant is used, it will result in poor lubrication and the compressor itself may be damaged.
4. HANDLING OF REFRIGERANT
The refrigerant boils at approx. -30ºC (-22ºF). When handling it, be sure to wear protective goggles and protective gloves. Direct contact of the refrigerant with skin may cause frostbite.

If the refrigerant gets into your eye, avoid rubbing your eyes with your hands. Wash your eye with plenty of water, and receive medical treatment from an eye doctor.

Do not heat a service can. If a service can is directly heated, or put into boiling water, the inside pressure will become extremely high. This may cause the can to explode. If a service can must be warmed up, use warm water of 40ºC (104ºF) or less.
Do not drop or impact a service can. (Observe the precautions and operation procedure described on the refrigerant can.)
When the engine is running, do not open the high-pressure valve of manifold gauge. The high-pressure gas will back-flow resulting in an explosion of the can.
Provide good ventilation and do not work in a closed area.
In order to prevent global warming, avoid releasing HFC-134a into the atmosphere. Using a refrigerant recovery system, discharge and recycle the gas.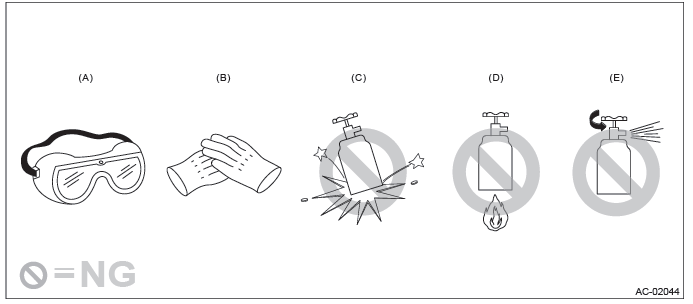 Goggles
Gloves
Do not apply impact.
No direct heat on container
Do not discharge
5. O-RING CONNECTIONS
Always use a new O-ring.
In order to keep the O-rings free of lint which will cause a refrigerant gas leak, perform work without using gloves or waste cloths.
Apply compressor oil to O-rings to avoid sticking, before installation.
Use a torque wrench to tighten the O-ring fittings. Over-tightening will result in damage of the O-ring and deformation of the pipe end.
If the work is interrupted before completing pipe connections, recap the pipes, components and fittings with a plug or tape to prevent foreign matter from entering.
Visually check the surfaces and mating surfaces of O-rings, threads and connecting points. If a failure is found, replace the applicable parts.
Install the O-rings straight against the pipe groove.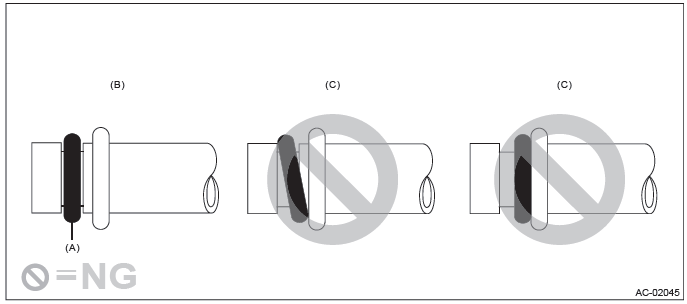 O-ring
OK
NG
Use compressor oil specified in the service manual to lubricate the O-rings.

Apply oil to the top and sides of O-rings before installation.

Apply compressor oil to the pipe grooves.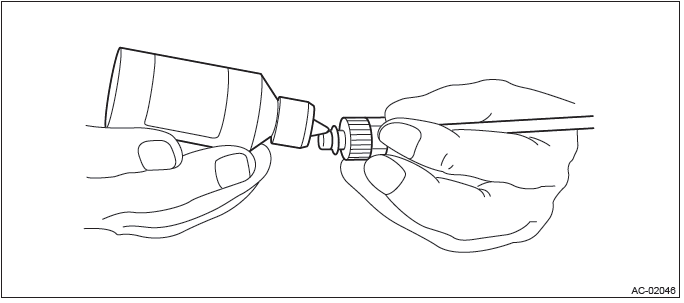 After tightening, use a clean cloth to remove excess compressor oil from the connections and any oil which may have run on the vehicle body or other parts.
If any leakage is suspected after tightening, do not tighten the connections further, but disconnect the connections, remove the O-rings, and check the O-rings, threads, and connections.
E: PREPARATION TOOL
1. SPECIAL TOOL

2. GENERAL TOOL
CAUTION: When working on vehicles with a HFC-134a system, only use HFC-134a specified tools and parts. Do not mix CFC-12 tools and parts. If HFC-134a and CFC-12 refrigerant or compressor oil is mixed, it will result in poor lubrication and the compressor itself may be damaged.
In order to prevent the mixture of HFC-134a and CFC-12 parts and liquid, the type of tool and screw, and the replacement valves used are different. The gas leak detectors for the HFC-134a and CFC-12 systems must also not be interchanged.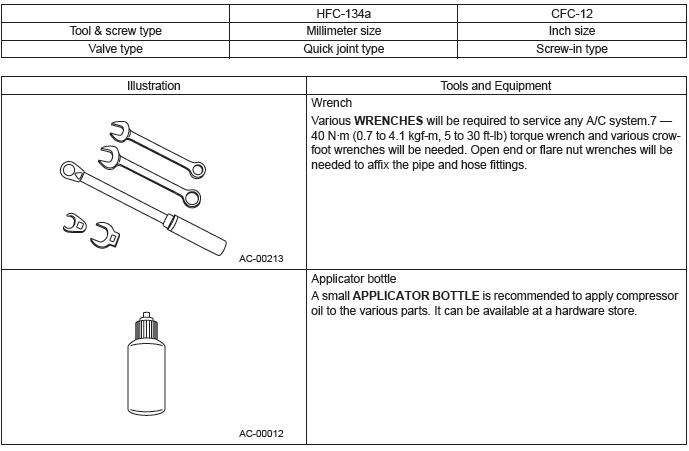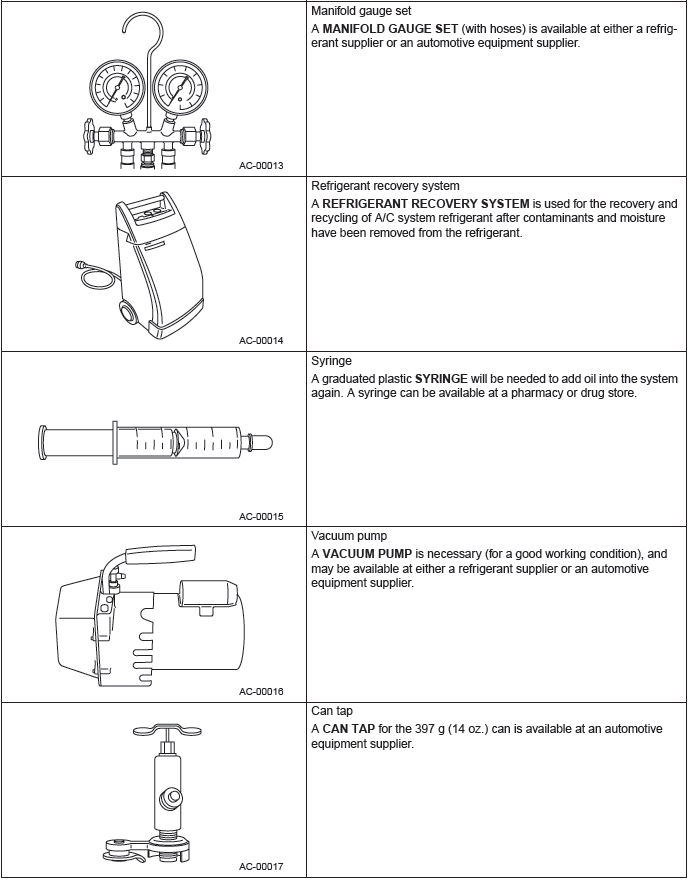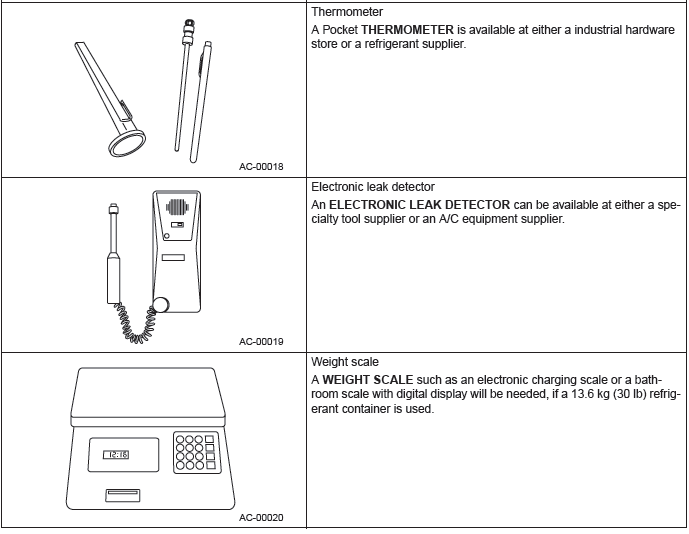 READ NEXT:
A: WIRING DIAGRAM Refer to "Air Conditioning System" in the wiring diagram. <Ref. to WI-53, WIRING DIAGRAM, Air Conditioning System.> B: ELECTRICAL SPECIFICATION Refer to "Auto A/C Control Modu
A: LOCATION NOTE: For other related fuses, refer to the wiring diagram. <Ref. to WI-15, Power Supply Circuit.> B: INSPECTION 1. CHECK FUSE. 1) Remove the fuse and inspect visually. 2) If the
A: REMOVAL 1) Disconnect the ground cable from battery. 2) Using the refrigerant recovery system, discharge refrigerant. <Ref. to AC-24, PROCEDURE, Refrigerant Recovery Procedure.> 3) Drain t
SEE MORE:
CAUTION Never replace a fuse with one having a higher rating or with material other than a fuse because serious damage or a fire could result. The fuses are designed to melt during an overload to prevent damage to the wiring harness and electrical equipment. The fuses are located in two fuse b
Compass calibration zones 1. Refer to the "Compass calibration zones" map shown above to verify that the compass zone setting is correct for your geographical location. 2. Press and hold the compass display button for 3 seconds until the zone selection comes up (a number will be displaye
© 2010-2023 Copyright www.suoutback.com