Subaru Outback: How to re-stow bars
CAUTION
Do not use the bars as roof rails when the bars are stowed.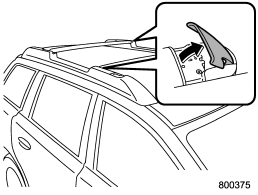 1. Pull out the crossbars from the roof rail holders by pulling up the covers.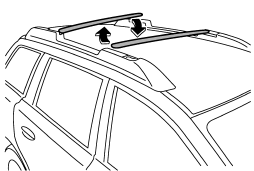 2. Slide the bars in the direction shown in the illustration.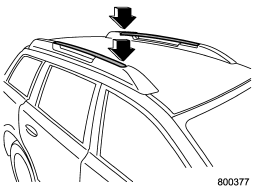 3. Install the bars into the holders.
4. Make sure that the latches are fitted securely.
READ NEXT:
WARNING ● Never exceed the maximum weight specified for the trailer hitch. Exceeding the maximum weight could cause an accident resulting in serious personal injuries. Permissible trailer w
1. Remove the receiver cover from the hitch receiver tube. Then insert the ball mount into the hitch receiver tube. 2. Insert the hitch pin into the hole on the hitch receiver tube so that the
● Remove the ball mount from the hitch receiver tube and insert the receiver cover onto the hitch receiver tube. ● Place the dust cap over the four-pin connector of the hitch wire harne
SEE MORE:
WARNING ● Child restraint systems and seatbelts can become hot in a vehicle that has been closed up in sunny weather; they could burn a small child. Check the child restraint system before you place a child in it. ● Do not leave an unsecured child restraint system in your vehicle.
Calculate the available load capacity as shown in the following examples: Example 1A Vehicle capacity weight of the vehicle is 800 lbs (363 kg), which is indicated on the vehicle placard with the statement "The combined weight of occupants and cargo should never exceed 363 kg or 800 lbs"
© 2010-2023 Copyright www.suoutback.com