Subaru Outback: Security indicator light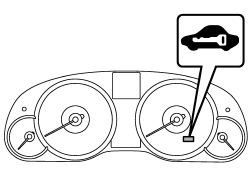 The security indicator light deters potential thieves by indicating that the vehicle is equipped with an immobilizer system. It begins flashing approximately 60 seconds after the ignition switch is turned from the "ON" position to the "Acc" or "LOCK" position or immediately after the key is pulled out.
If the security indicator light does not flash, the immobilizer system may be malfunctioning. If this occurs, contact your SUBARU dealer as soon as possible. In case an unauthorized key is used (e.g. an imitation key), the security indicator light illuminates.
NOTE
Even if the security indicator light flashes irregularly or its fuse blows (the light does not flash if its fuse is blown), the immobilizer system will function normally.
READ NEXT:
Your key number plate and security ID plate will be required if you ever need a replacement key made. Any new key must be registered for use with your vehicle's immobilizer system before it can
To lock the driver's door from the outside with the key, turn the key toward the rear. To unlock the door, turn the key toward the front. Pull the outside door handle to open an unlocked door.
SEE MORE:
A: REMOVAL 1) Remove the transmission assembly from the vehicle. <Ref. to 5AT-37, REMOVAL, Automatic Transmission Assembly.> 2) Remove the rear vehicle speed sensor, and separate the extension case from transmission case. <Ref. to 5AT-65, REMOVAL, Extension Case.> 3) Extract the rear
WARNING To prevent the passenger from sliding under the seatbelt in the event of a collision, always put the seatback in the upright position while the vehicle is in motion. Also, do not place objects such as cushions between the passenger and the seatback. If you do so, the risk of sliding
© 2010-2023 Copyright www.suoutback.com