Subaru Outback: Side mirrors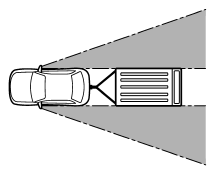 After hitching a trailer to your vehicle, check that the standard side mirrors provide a good rearward field of view without significant blind spots. If significant blind spots occur with the vehicle's standard side mirrors, use towing mirrors that conform with Federal, state/province and/ or other applicable regulations.
READ NEXT:
CAUTION Direct splicing or other improper connection of trailer lights may damage your vehicle's electrical system and cause a malfunction of your vehicle's lighting system. Connection of trai
WARNING Never tow a trailer when the temporary spare tire is used. The temporary spare tire is not designed to sustain the towing load. Use of the temporary spare tire when towing can result in f
CAUTION ● Never exceed 45 mph (72 km/h) when towing a trailer in hilly country on hot days. ● When towing a trailer, steering, stability, stopping distance and braking performance wi
SEE MORE:
A: REMOVAL CAUTION: Always use new MT gear select cable if the cable is removed from selector lever COMPL of transmission side. 1) Disconnect the ground cable from battery. 2) Remove the ten clips and remove the grille bracket. 3) Remove the air intake duct. Non-turbo model <Ref. to IN(H4S
To change from low beam to high beam, push the turn signal lever forward. When the headlights are on high beam, the high beam indicator light "" on the combination meter is also on. To switch back to low beam, pull the lever back to the detent position.
© 2010-2023 Copyright www.suoutback.com