Subaru Outback: Wear indicators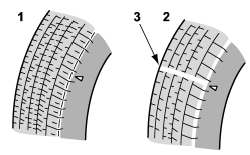 1) New tread
2) Worn tread
3) Tread wear indicator
Each tire incorporates a tread wear indicator, which becomes visible when the depth of the tread grooves decreases to 0.063 in (1.6 mm). A tire must be replaced when the tread wear indicator appears as a solid band across the tread.
WARNING
When a tire's tread wear indicator becomes visible, the tire is worn beyond the acceptable limit and must be replaced immediately. With a tire in this condition, driving at high speeds in wet weather can cause the vehicle to hydroplane. The resulting loss of vehicle control can lead to an accident.
NOTE
For safety, inspect the tire tread regularly and replace the tires before their tread wear indicators become visible.
READ NEXT:
Example of tire rotation direction mark 1) Front If the tire has a rotation direction specification, the tire rotation direction mark is placed on its sidewall. When you install a tire that has
Vehicles equipped with 4 non-unidirectional tires 1) Front Vehicles equipped with unidirectional tires 1) Front Tire wear varies from wheel to wheel. To maximize the life of each tire and ensu
The wheels and tires are important and integral parts of your vehicle's design; they cannot be changed arbitrarily. The tires fitted as standard equipment are optimally matched to the characteri
SEE MORE:
A: SPECIFICATION B: CAUTION Before disassembling or reassembling parts, always disconnect the battery ground cable from battery. When replacing the audio, control module and other parts provided with memory functions, record the memory contents before disconnecting the battery ground cable.
WARNING ● Never tow a trailer when the temporary spare tire is used. The temporary spare tire is not designed to sustain the towing load. Use of the temporary spare tire when towing can result in failure of the spare tire and/or less stability of the vehicle and may lead to an accident.
© 2010-2023 Copyright www.suoutback.com