Subaru Outback: General Description
A: SPECIFICATION
1. 2.5 L MODEL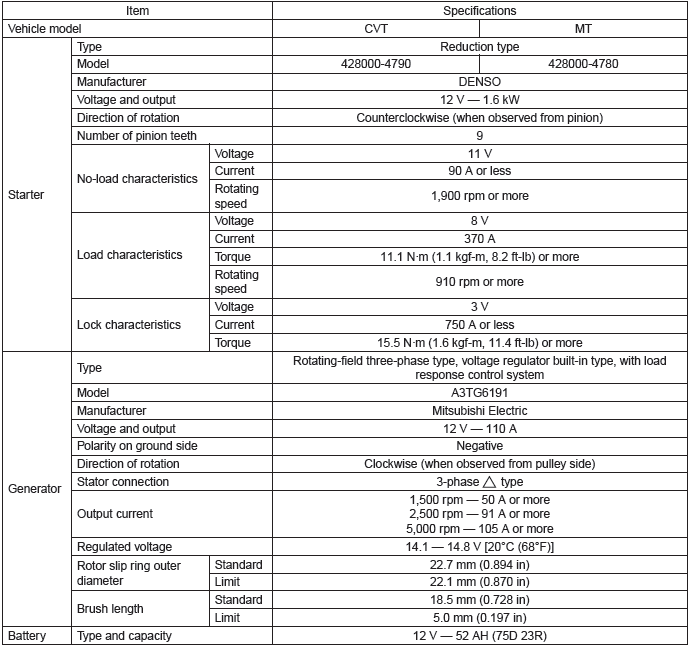 2. 3.6 L MODEL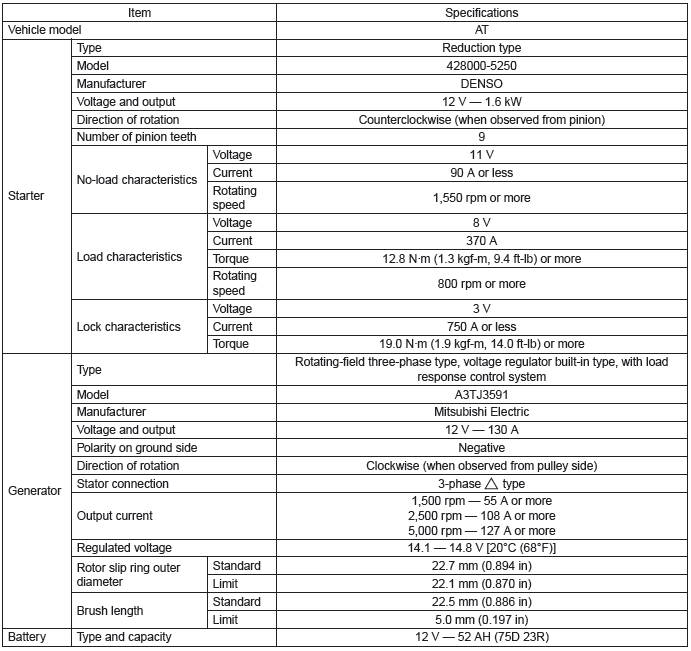 B: COMPONENT
1. STARTER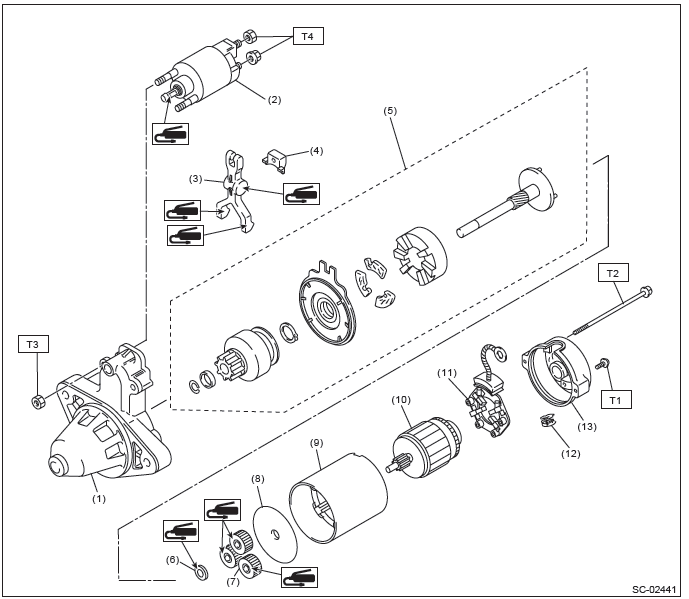 Starter housing
Magnet switch ASSY
Shift lever
Starter seal
Overrunning clutch ASSY
Washer
Planetary gear
Starter plate
Yoke
Armature
Brush holder ASSY
Drain duct
Starter cover
Tightening torque: N*m (kgf-m, ft-lb)
T1: 1.4 (0.1, 1.0)
T2: 6 (0.6, 4.4)
T3: 7.5 (0.8, 5.5)
T4: 10 (1.0, 7.4)
2. GENERATOR
Pulley nut
Pulley
Front cover
Ball bearing
Bearing retainer
Rotor
Bearing
Stator coil
IC regulator
Brush
Rectifier
Rear cover
Terminal B
Tightening torque: N*m (kgf-m, ft-lb)
T1: 4.7 (0.5, 3.5)
T2: 108 (11.0, 79.8)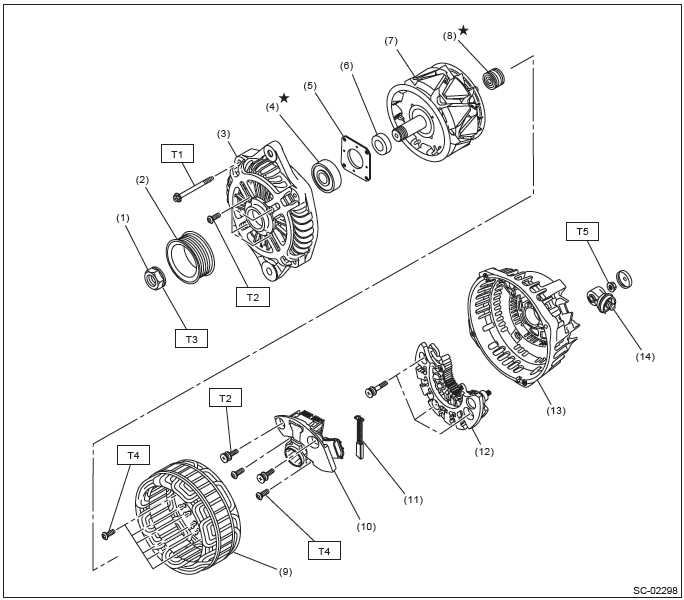 Pulley nut
Pulley
Front cover
Ball bearing
Bearing retainer
Spacer
Rotor
Bearing
Stator coil
IC regulator
Brush
Rectifier
Rear cover
Terminal B
Tightening torque: N*m (kgf-m, ft-lb)
T1: 4.4 (0.4, 3.2)
T2: 3.9 (0.4, 2.9)
T3: 117.5 (12.0, 86.7)
T4: 2 (0.2, 1.5)
T5: 8.9 (0.9, 6.6)
3. GENERATOR BRACKET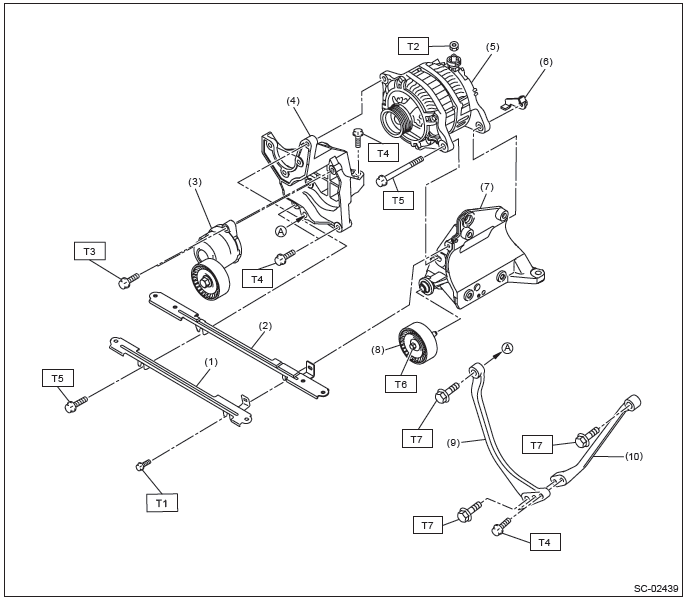 V-belt cover bracket
Collector cover bracket
V-belt tensioner ASSY
Power steering pump bracket
Generator
Generator plate
A/C compressor bracket
Idler pulley
Stopper rod RH
Stopper rod LH
Tightening torque: N*m (kgf-m, ft-lb)
T1: 6.4 (0.7, 4.7)
T2: 16 (1.6, 11.8)
T3: 20 (2.0, 14.8)
T4: 22 (2.2, 16.2)
T5: 25 (2.5, 18.4)
T6: 33 (3.4, 24.3)
T7: 36 (3.7, 26.6)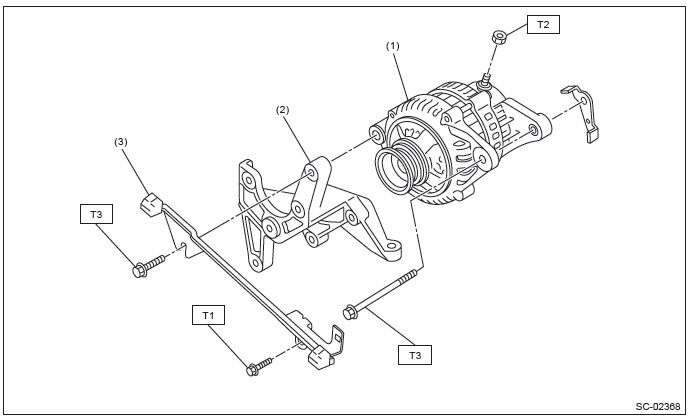 Generator
Power steering pump bracket
Collector cover bracket
Tightening torque: N*m (kgf-m, ft-lb)
T1: 6.4 (0.7, 4.7)
T2: 16 (1.6, 11.8)
T3: 25 (2.5, 18.4)
C: CAUTION
Wear appropriate work clothing, including a cap, protective goggles and protective shoes when performing any work.
Remove contamination including dirt and corrosion before removal, installation or disassembly.
Keep the disassembled parts in order and protect them from dust and dirt.
Before removal, installation or disassembly, be sure to clarify the failure. Avoid unnecessary removal, installation, disassembly and replacement.
Vehicle components are extremely hot after driving. Be wary of receiving burns from heated parts.
Be sure to tighten fasteners including bolts and nuts to the specified torque.
Place shop jacks or rigid racks at the specified points.
Before disconnecting connectors of sensors or units, be sure to disconnect the ground cable from the battery.
D: PREPARATION TOOL
1. GENERAL TOOL

READ NEXT:
A: REMOVAL 1) Disconnect the ground cable from battery. 2) Remove the cover (A) and clip (B) from air intake boot assembly. (2.5 L non-turbo model) 3) Loosen the clamp (A) which connects the air int
A: REMOVAL 1) Disconnect the ground cable from battery. 2) Remove the V-belts. <Ref. to ME(H4SO)-43, VBELT, REMOVAL, V-belt.> <Ref. to ME(H4DOTC)-42, V-BELT, REMOVAL, V-belt.> <Ref. t
A: REMOVAL 1) After disconnecting the battery ground terminal, remove the terminal cover, then disconnect the positive terminal. 2) Remove the battery cable holder from the battery rod. 3) Remove fl
SEE MORE:
The HomeLink® Wireless Control System can be used to activate remote control devices such as gate operators, garage door openers, door locks, home lighting and security systems. There are three HomeLink® buttons on the mirror, each of which can be programmed for operation of one desired dev
A: REMOVAL 1) Lift up the vehicle, and then remove the rear wheels. 2) Remove the trailing link. Remove the bracket, and remove the parking brake cable from the guide (a). Remove the bolts and nuts, and then remove the trailing link. 3) Remove the front lateral link. Remove the snap pin (a
© 2010-2023 Copyright www.suoutback.com