Subaru Outback: General Description
A: COMPONENT
1. AT SELECT LEVER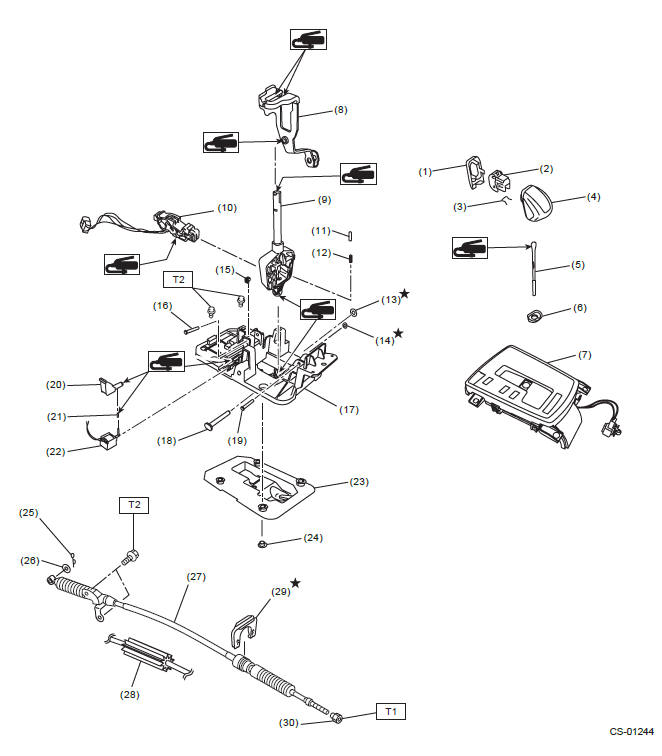 Cover grip AT
Button ASSY-AT
Clamp grip pin
Grip ASSY sub
Rod COMPL
Cover grip AT
Indicator ASSY
Arm ASSY
Selector lever COMPL
Plate guide
Rod detent
Detent spring
Clamp push nut
Clamp push nut
Clamp pin
Spacer pin guide
Plate COMPL
Shaft control
Spacer pin guide
Rod shift lock
Cushion solenoid
Solenoid unit
Gasket
Spacer plate
Snap pin
Washer
Select cable (AT model)
Select cable (CVT model)
Clamp
Nut
Tightening torque: N*m (kgf-m, ft-lb)
T1: 7.5 (0.8, 5.5)
T2: 18 (1.8, 13.3)
2. 6MT GEAR SHIFT LEVER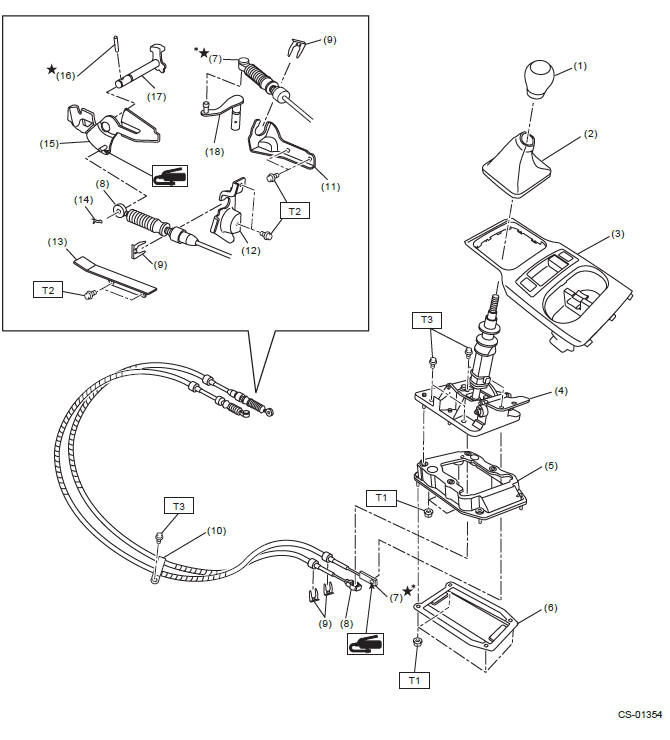 Shift knob
Shift boot
Console front cover ASSY
Gear shift lever ASSY
Cover cable ASSY
Plate cable ASSY
MT gear select cable (identification tape color: green)
MT gear shift cable (identification tape color: yellow)
Clamp
Clamp cable
Select bracket
Shift bracket
Dust cover
Snap pin
Shift lever COMPL
Spring pin
Shifter arm No. 2
Selector lever
Tightening torque: N*m (kgf-m, ft-lb)
T1: 7.5 (0.8, 5.5)
T2: 15 (1.5, 11.1)
T3: 18 (1.8, 13.3)
*: Always use new MT gear select cable if the cable is removed from select lever COMPL of transmission side.
B: CAUTION
Wear appropriate work clothing, including a cap, protective goggles and protective shoes when performing any work.
Remove contamination including dirt and corrosion before removal, installation or disassembly.
Keep the disassembled parts in order and protect them from dust and dirt.
Before removal, installation or disassembly, be sure to clarify the failure. Avoid unnecessary removal, installation, disassembly and replacement.
Use SUBARU genuine fluid, grease or equivalent. Do not mix fluid and grease of different grades or manufacturers.
Be sure to tighten fasteners including bolts and nuts to the specified torque.
Place shop jacks or rigid racks at the specified points.
Apply grease onto sliding or revolving surfaces before installation.
Before installing the O-ring or snap ring, apply a sufficient amount of fluid to avoid damage and deformation.
Before securing a part in a vise, place cushioning material such as wood blocks, aluminum plate or cloth between the part and the vise.
Before disconnecting electrical connectors, be sure to disconnect the negative terminal from battery.
C: PREPARATION TOOL
1. SPECIAL TOOL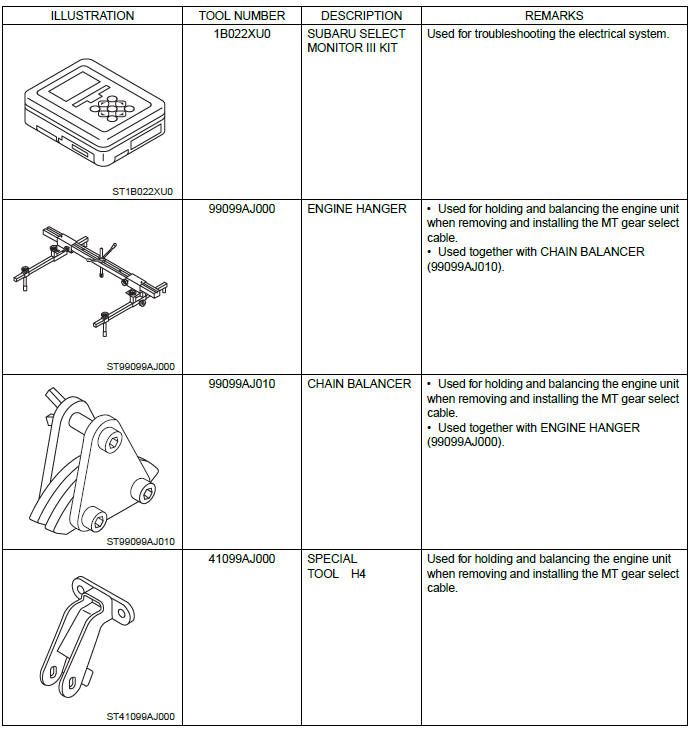 2. GENERAL TOOL

READ NEXT:
A: LOCATION TCM ("P" range) Body integrated unit Stop light switch Key cylinder (with built-in key warning switch) Solenoid unit "P" range switch Key lock solenoid B: ELECTRICAL SPECIFICAT
A: REMOVAL 1) Shift the select lever to "N" range. 2) Disconnect the ground cable from battery. 3) Lift up the vehicle. 4) Remove the rear exhaust pipe. 2.5 L non-turbo model <Ref. to EX(H4SO
A: REMOVAL 1) Shift the select lever to "N" range. 2) Disconnect the ground cable from battery. 3) Lift up the vehicle. 4) Remove the front exhaust pipe and rear exhaust pipe. 2.5 L model <Re
SEE MORE:
Grease, wax, insects, or other materials on the windshield or the wiper blade results in jerky wiper operation and streaking on the glass. If you cannot remove the streaks after operating the windshield washer or if the wiper operation is jerky, clean the outer surface of the windshield (or re
1) The vehicle is involved in frontal collision with another vehicle (moving or stationary). 2) The vehicle is struck from behind. 3) The vehicle pitches end over end. In the event of accidents like those illustrated, the SRS side airbag and SRS curtain airbag are basically not designed to
© 2010-2023 Copyright www.suoutback.com