Subaru Outback: Transmission Harness
A: REMOVAL
1) Remove the transmission from the vehicle. <Ref. to CVT-55, REMOVAL, Automatic Transmission Assembly.>
2) Prepare for overhaul. <Ref. to CVT-135, Preparation for Overhaul.>
3) Remove the transmission harness ground terminal and remove the harness connectors from front wheel speed sensor and secondary speed sensor.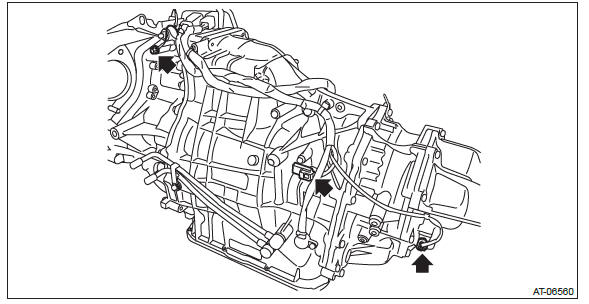 4) Remove the harness connectors from inhibitor switch, primary speed sensor and secondary pressure sensor.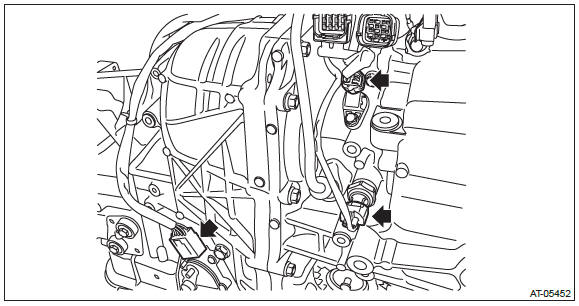 5) Remove the transmission harness stay.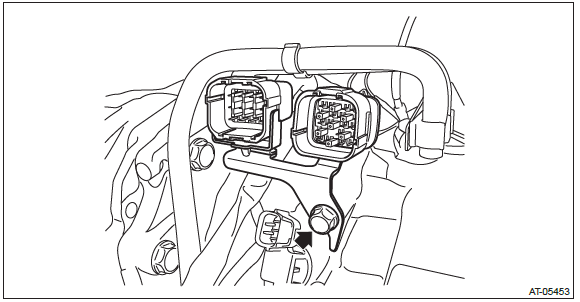 6) Remove transmission harness connector and inhibitor harness connector from harness stay.
7) Remove the control valve body. <Ref. to CVT-111, REMOVAL, Control Valve Body.>
8) Remove the mounting bolt to pull out the bushing of transmission harness from transmission case round hole.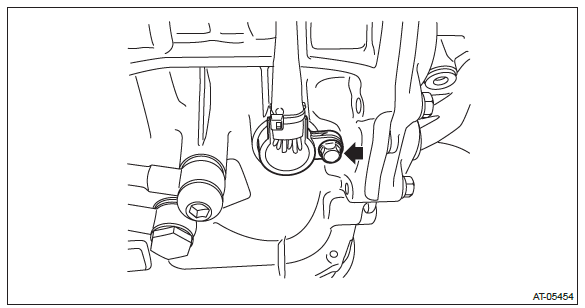 9) Remove the harness clip from transmission assembly.
B: INSTALLATION
Install in the reverse order of removal.
NOTE:
Use new O-rings.
Do not impact or bend the transmission harness because it has the oil temperature sensor inside.
Install the transmission ground terminal approximately at an angle of 45º.
Tightening torque:
T1: 5 N*m (0.5 kgf-m, 3.7 ft-lb)
T2: 16 N*m (1.6 kgf-m, 11.8 ft-lb)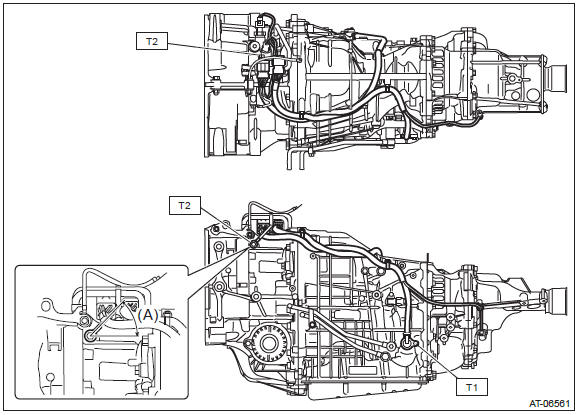 Install at an angle of 45º approximately.
C: INSPECTION
1) Visually check the harness and connector for damage or crack.
2) Check the harness terminal for rust, disconnection or poor contact.
3) Check the continuity between harness terminals and oil temperature sensor.
NOTE: Refer to WIRING SECTION for transmission harness terminal and oil temperature sensor terminal. <Ref. to WI-112, WIRING DIAGRAM, CVT Control System.>
Harness continuity standard
Less than 1 Ω
Oil temperature sensor standard
Approx. 2.6 kΩ (at 20ºC)
Transmission Control Module (TCM)
A: REMOVAL
1) Disconnect the ground cable from battery.
2) Remove the instrument panel lower cover. <Ref. to EI-64, REMOVAL, Instrument Panel Lower Cover.>
3) Remove the bulkhead harness connector from TCM.
4) Remove the TCM.
NOTE: Replace TCM and bracket as a set.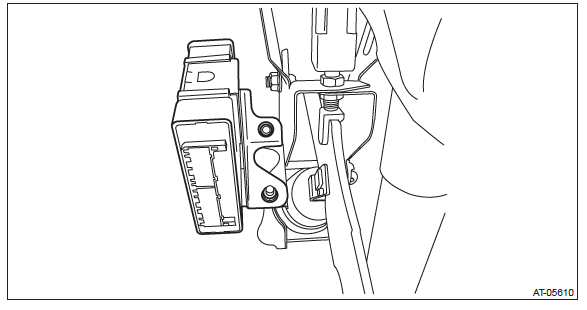 B: INSTALLATION
1) Install the TCM to the bracket.
CAUTION: To avoid the damage to bracket and TCM, do not remove after installing TCM to bracket. If installed by mistake, the part must be replaced with a new part.
2) Install the TCM.
Tightening torque: 7.5 N*m (0.76 kgf-m, 5.5 ft-lb)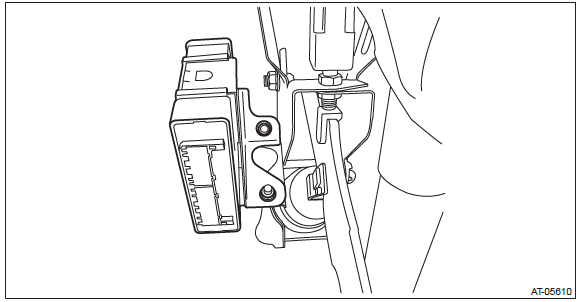 3) Install the harness connector to TCM.
4) Install the instrument panel lower cover. <Ref. to EI-65, INSTALLATION, Instrument Panel Lower Cover.>
5) Perform the diagnosis again. <Ref. to CVT(diag)-20, Learning Control.>
READ NEXT:
A: REMOVAL CAUTION: Immediately after the vehicle has been running or after idling for a long time, the CVTF will be hot. Be careful not to burn yourself. If the CVTF is spilt over exhaust pipe,
A: REMOVAL 1) Remove the air intake boot assembly. <Ref. to IN(H4SO)-8, REMOVAL, Air Intake Boot.> 2) Remove the two air breather hoses. 3) Remove the oil cap. B: INSTALLATION Install in the
A: REMOVAL 1) Remove the transmission assembly from the vehicle. <Ref. to CVT-55, REMOVAL, Automatic Transmission Assembly.> 2) Remove the extension case. <Ref. to CVT-138, REMOVAL, Extensi
SEE MORE:
A: REMOVAL 1) Remove the cradle. <Ref. to FS-20, REMOVAL, Cradle.> 2) Remove the bolts, and remove left and right main mounting brackets. 3) Remove the bolts and remove the steering gearbox. CAUTION: Be careful not to damage the steering boot. B: INSTALLATION 1) Before installation, check t
WARNING ● Never inhale engine exhaust gas. Engine exhaust gas contains carbon monoxide, a colorless and odorless gas which is dangerous, or even lethal, if inhaled. ● Always properly maintain the engine exhaust system to prevent engine exhaust gas from entering the vehicle. ●
© 2010-2023 Copyright www.suoutback.com