Subaru Outback: General Description
A: SPECIFICATION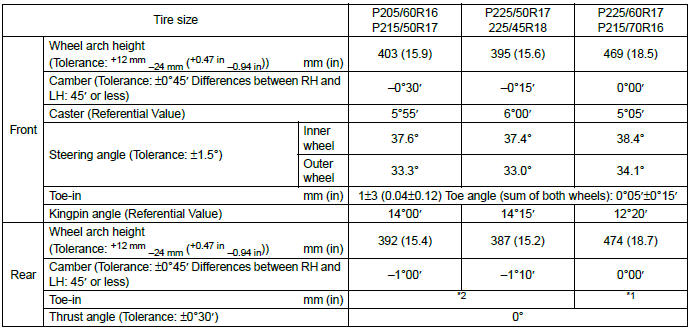 *1: OUTBACK model
2+-3 mm (0.08 - 0.12 in) Toe angle (sum of both wheels): 0º10′+-0º15′
*2: Except for OUTBACK model
0+-3 mm (0+-0.12 in) Toe angle (sum of both wheels): 0º+-0º15′
NOTE:
Front and rear toe-in and front camber can be adjusted. Adjust if the toe-in or camber tolerance exceeds specifications.
Other items indicated in the specifications is not equipped with adjustment mechanisms. If other items exceed specifications, check the suspension parts and connections for deformation. If defective, replace with new parts.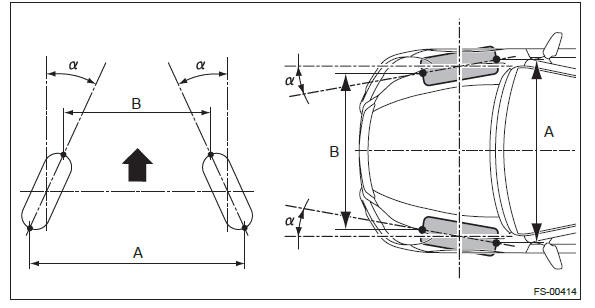 A - B = Positive: Toe-in, Negative: Toe-out
α = Individual toe angles
B: COMPONENT
Front mounting bracket (H6 model)
Bracket
Front mounting bracket (H4 model)
Cradle
Main mounting bracket
Main cushion rubber
Stopper (OUTBACK model only)
Stud bolt
Stiffener
Bolt
Self-locking nut
Tightening torque: N*m (kgf-m, ft-lb)
T1: 45 (4.59, 33.2)
T2: 60 (6.12, 44.3)
T3: 65 (6.63, 47.9)
T4: 75 (7.65, 55.3)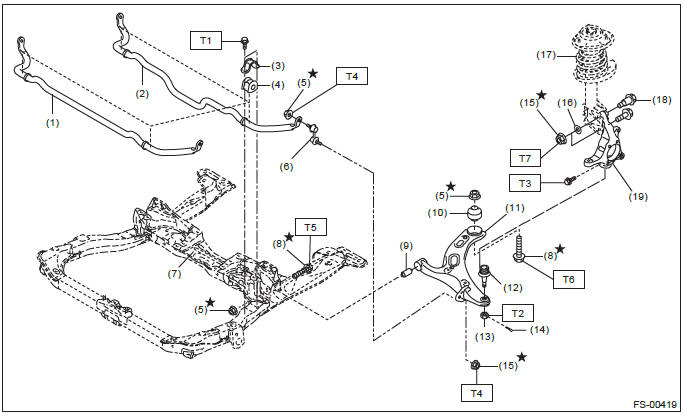 Stabilizer (H6 model)
Stabilizer (H4 model)
Stabilizer bracket
Stabilizer bushing
Self-locking nut
Stabilizer link
Cradle
Bolt
Front bushing
Rear bushing
Front arm
Ball joint
Castle nut
Cotter pin
Flange nut
Adjusting washer
Front strut ASSY
Adjusting bolt
Front axle housing
Tightening torque: N*m (kgf-m, ft-lb)
T1: 25 (2.55, 18.4)
T2: 39 (3.98, 28.8)
T3: 50 (5.10, 36.9)
T4: 60 (6.12, 44.3)
T5: 95 (9.69, 70.1)
T6: 140 (14.28, 103.3)
T7: 155 (15.81, 114.3)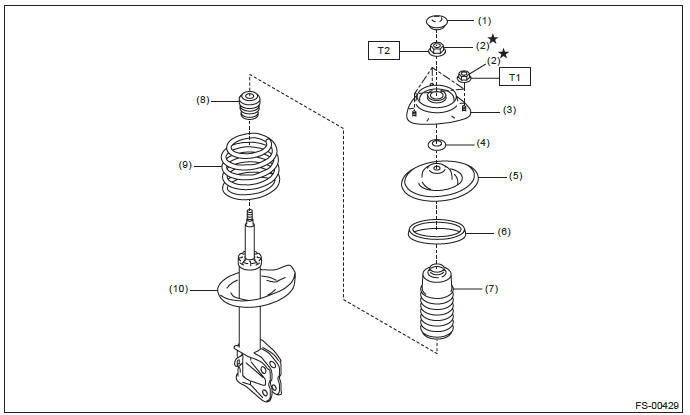 Dust seal
Self-locking nut
Strut mount
Spacer
Upper spring seat
Rubber seat (OUTBACK model only)
Dust cover
Helper (except for Bilstein strut)
Coil spring
Strut
Tightening torque: N*m (kgf-m, ft-lb)
T1: 20 (2.04, 14.8)
T2: 55 (5.61, 40.6)
C: CAUTION
Wear appropriate work clothing, including a helmet, protective goggles and protective shoes when performing any work.
Before removal, installation or disassembly, be sure to clarify the failure. Avoid unnecessary removal, installation, disassembly and replacement.
Use SUBARU genuine grease etc. or equivalent. Do not mix grease etc. of different grades or manufacturers.
Before securing a part on a vise, place cushioning material such as wood blocks, aluminum plate, or cloth between the part and the vise.
Be sure to tighten fasteners including bolts and nuts to the specified torque.
Place shop jacks or rigid racks at the specified points.
D: PREPARATION TOOL
1. SPECIAL TOOL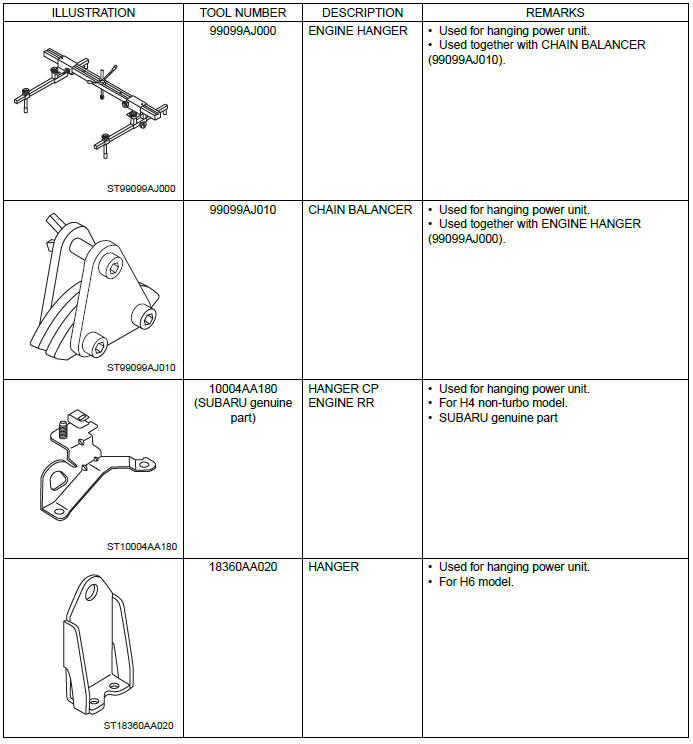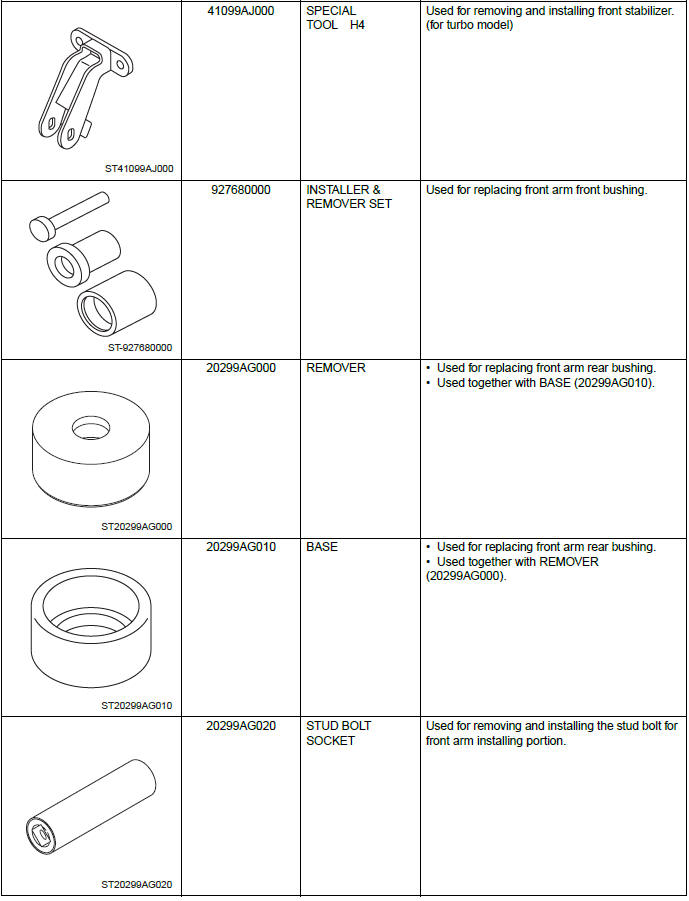 2. GENERAL TOOL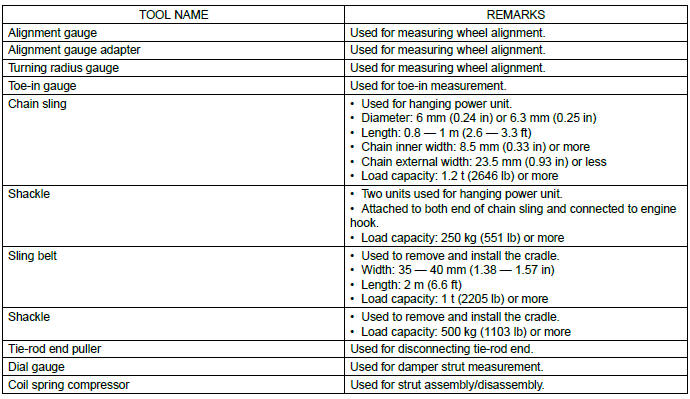 READ NEXT:
A: INSPECTION Check the following items before performing the wheel alignment measurement. Tire inflation pressure Uneven wear of RH and LH tires, or difference of sizes Tire runout Excessive pla
A: REMOVAL 1) Set the vehicle on a lift. 2) Adjust the tilt position of the steering column to the lowest position and lock the tilt lever. 3) Prevent the steering wheel from turning using the seat
A: REMOVAL 1) Lift up the vehicle, and then remove the left and right front wheels. 2) Remove the front under cover. <Ref. to EI-35, REMOVAL, Front Under Cover.> 3) Remove the center exhaust p
SEE MORE:
When the fluid level has to be checked without time to warm up the automatic transmission, check to see that the fluid level is between the lower level and upper level on the "COLD" range. If it is below that range, add fluid up to the upper level. Be careful not to overfill. CAUTION Be
1) Electronic compass display 2) Rear view image display 3) HomeLink® button 1 4) HomeLink® button 2 5) Function indicator 6) HomeLink® button 3 7) Photosensor 8) Power button 9) Compass button The mirror has the following features. ● Auto-dimming function for anti-glare capabil
© 2010-2023 Copyright www.suoutback.com