Subaru Outback: General Description
A: SPECIFICATION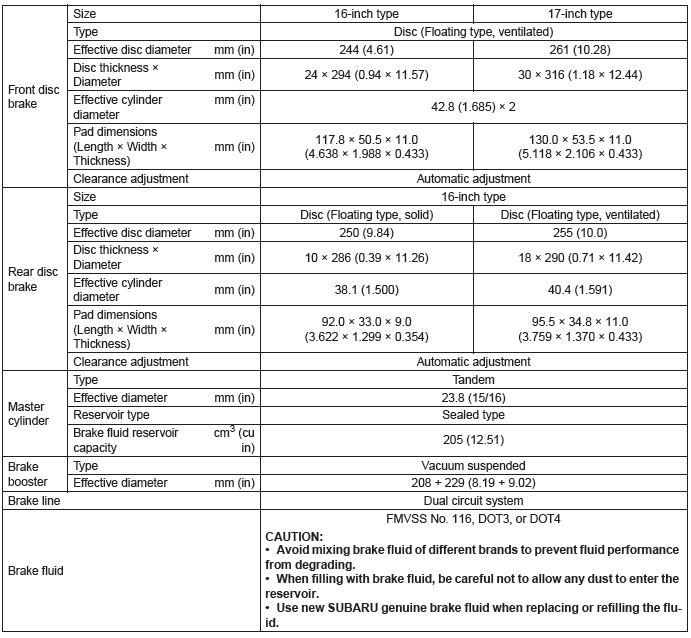 NOTE: Refer to "PB" section for parking brake specifications. <Ref. to PB-2, SPECIFICATION, General Description.>
B: COMPONENT
1. FRONT DISC BRAKE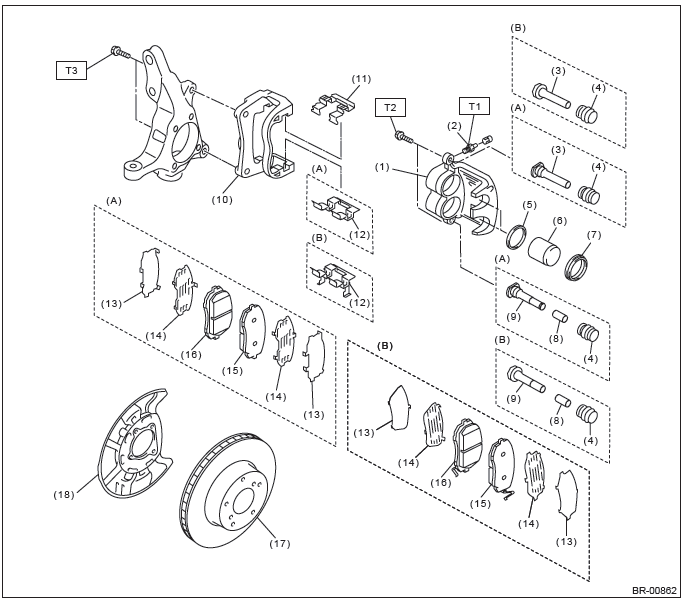 16-inch type
17-inch type
Caliper body
Air bleeder screw
Guide pin (black)
Pin boot
Piston seal
Piston
Piston boot
Bushing
Lock pin (silver)
Support
Pad clip upper
Pad clip lower
Outer shim
Inner shim
Pad (outside)
Pad (inside)
Disc rotor
Disc cover
Tightening torque: N*m (kgf-m, ft-lb)
T1: 8 (0.82, 5.9)
T2: 27 (2.75, 19.9)
T3: 120 (12.24, 88.5)
2. REAR DISC BRAKE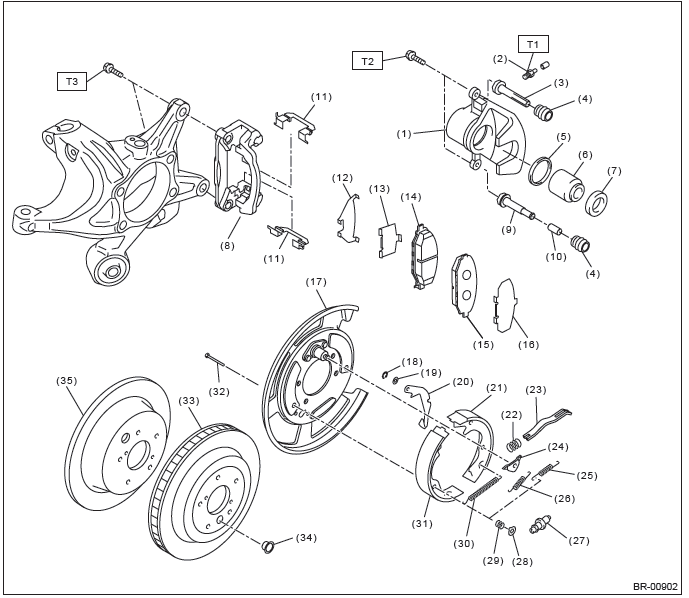 Caliper body
Air bleeder screw
Guide pin (black)
Pin boot
Piston seal
Piston
Piston boot
Support
Lock pin (silver)
Bushing
Pad clip
Outer shim
Inner shim
Inner pad
Outer pad
Shim
Back plate
Retainer
Wave washer
Lever
Parking brake shoe (secondary)
Strut spring
Strut
Shoe guide plate
Secondary shoe return spring
Primary shoe return spring
Adjusting screw
Shoe hold-down cup
Shoe hold-down spring
Adjusting spring
Parking brake shoe (primary)
Shoe hold-down pin
Disc rotor (ventilated type)
Adjusting hole cover
Disc rotor (solid type)
Tightening torque: N*m (kgf-m, ft-lb)
T1: 8 (0.82, 5.9)
T2: 27 (2.75, 19.9)
T3: 66 (6.73, 48.7)
3. MASTER CYLINDER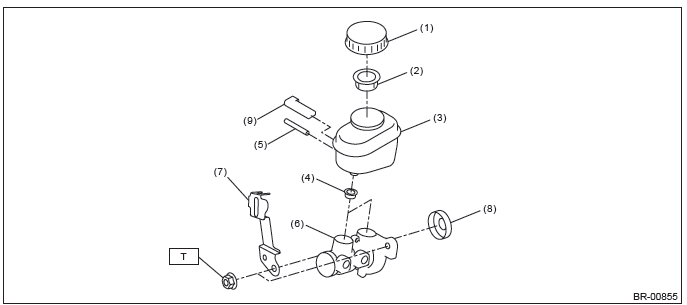 Cap
Filter
Reservoir tank
Seal
Pin
Cylinder body ASSY
Bracket
Seal sub ASSY
Level sensor
Tightening torque:N*m (kgf-m, ft-lb)
T: 13 (1.33, 9.6)
4. FRONT BRAKE PIPES AND HOSES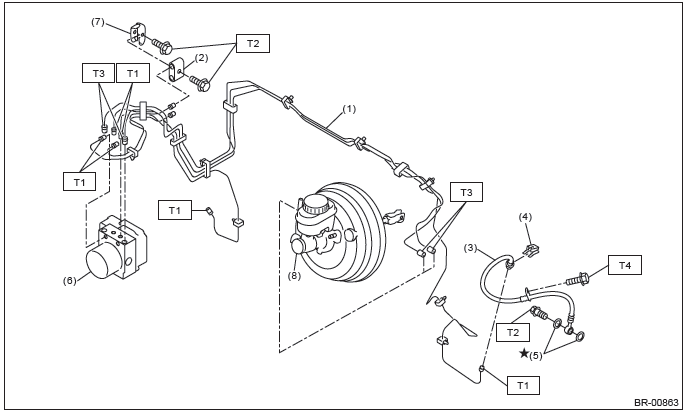 Front brake pipe ASSY
Two-way connector
Front brake hose RH/LH
Clamp
Gasket
VDC control module and hydraulic control unit (VDCCM&H/U)
Bracket
Master cylinder
Tightening torque:N*m (kgf-m, ft-lb)
T1: 15 (1.53, 11.1)
T2: 18 (1.84, 13.3)
T3: 19 ( 1.94, 14.0)
T4: 33 (3.36, 24.3)
5. CENTER AND REAR BRAKE PIPES AND HOSES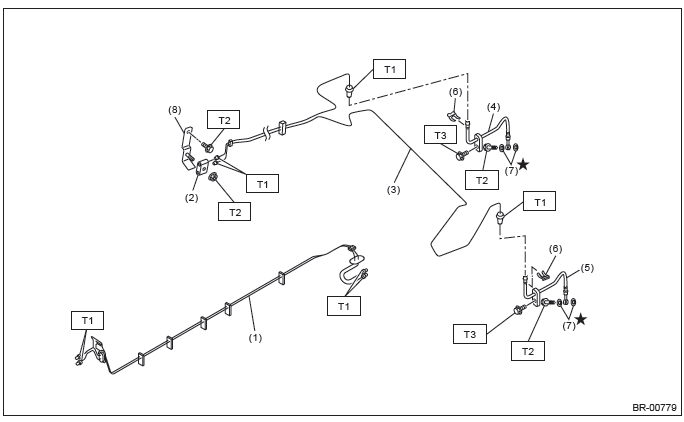 Center brake pipe ASSY
Connector
Rear brake pipe ASSY
Rear brake hose RH
Rear brake hose LH
Clamp
Gasket
Bracket
Tightening torque:N*m (kgf-m, ft-lb)
T1: 15 (1.53, 11.1)
T2: 18 (1.84, 13.3)
T3: 33 (3.36, 24.3)
6. BRAKE BOOSTER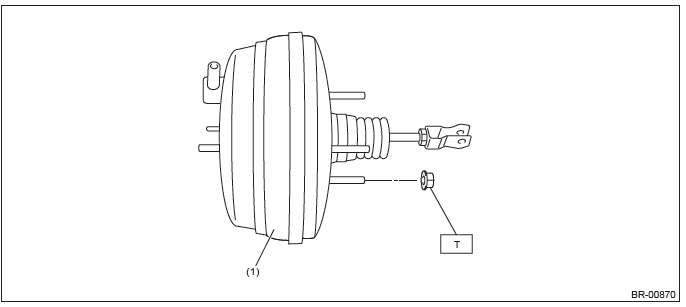 Brake booster
Tightening torque:N*m (kgf-m, ft-lb)
T: 18 (1.84, 13.3)
7. BRAKE PEDAL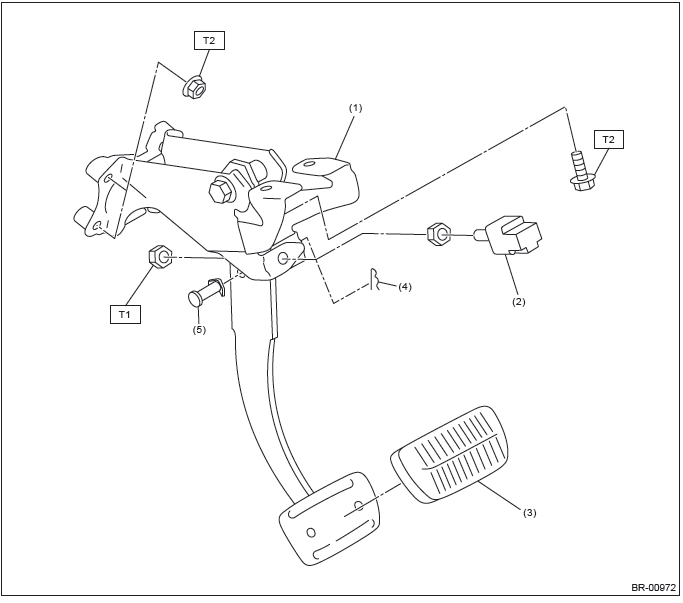 Brake pedal ASSY
Stop light switch
Brake pedal pad
Snap pin
Clevis pin
Tightening torque:N*m (kgf-m, ft-lb)
T1: 8 (0.82, 5.9)
T2: 18 (1.84, 13.3)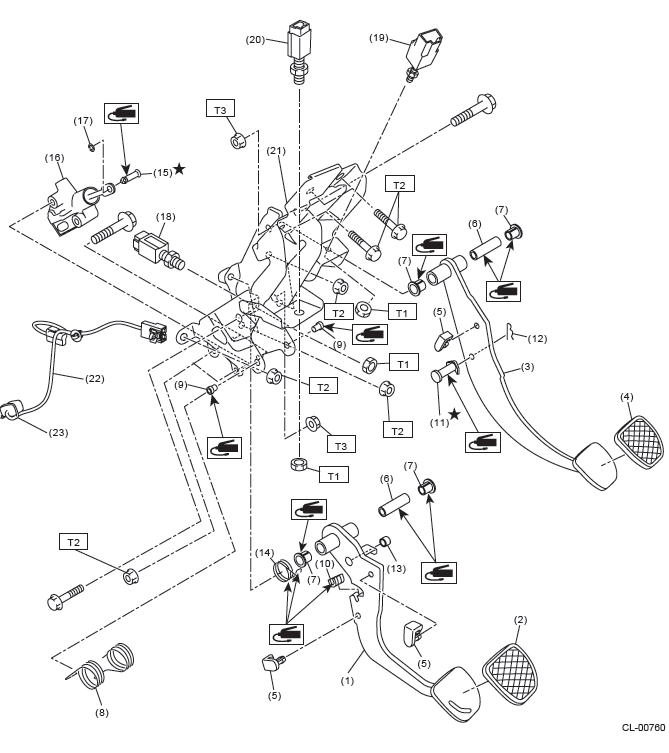 Clutch pedal
Clutch pedal pad
Brake pedal
Brake pedal pad
Stopper
Spacer
Bushing
Torsion spring
Assist bushing
Torsion spring bushing
Clevis pin
Snap pin
Bushing A
Assist spring
Clevis pin
Master cylinder ASSY
Clip
Clutch switch (clutch start)
Stop & brake switch
Clutch switch (cruise control)
Pedal bracket
Sensor harness
Band
Tightening torque:N*m (kgf-m, ft-lb)
T1: 8 (0.82, 5.9)
T2: 18 (1.84, 13.3)
T3: 30 (3.06, 22.1)
C: CAUTION
Wear appropriate work clothing, including a helmet, protective goggles and protective shoes when performing any work.
Before removal, installation or disassembly, be sure to clarify the failure. Avoid unnecessary removal, installation, disassembly and replacement.
Use SUBARU genuine grease etc. or equivalent. Do not mix grease etc. of different grades or manufacturers.
Before securing a part on a vise, place cushioning material such as wood blocks, aluminum plate, or cloth between the part and the vise.
Be sure to tighten fasteners including bolts and nuts to the specified torque.
Place shop jacks or rigid racks at the specified points.
D: PREPARATION TOOL
1. GENERAL TOOL

READ NEXT:
A: REMOVAL 1) Lift up the vehicle, and then remove the front wheels. 2) Remove the front brake pad. Remove the caliper bolt. Raise the caliper body and support it. NOTE: Do not disconnect the bra
A: REMOVAL 1) Lift up the vehicle, and then remove the rear wheels. 2) Remove the rear brake pad. Remove the bolts and remove the brake hose bracket. Remove the caliper bolt, and raise and hold th
A: REMOVAL CAUTION: Do not allow brake fluid to come in contact with the painted surface of the vehicle body. If it does, wash off with water and wipe away completely. 1) Disconnect the ground cable
SEE MORE:
Briefly press the "" button (for less than 2 seconds) on the remote transmitter. The driver's door will unlock, an electronic chirp will sound twice, the turn signal lights will flash twice and the security indicator light will turn off. To unlock all other doors and the rear gate (Outb
WARNING When shifting down a gear, ensure that the vehicle is not travelling at a speed exceeding the Maximum Allowable Speed for the gear which is about to be selected. Failure to observe this precaution can lead to engine over-revving and this in turn can result in engine damage. In additi
© 2010-2023 Copyright www.suoutback.com