Subaru Outback: Outback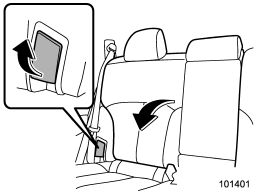 Unlock the seatback by pulling the release lever and then fold the seatback down. To return the seatback to its original position, raise the seatback until it locks into place and make sure that it is securely locked.
READ NEXT:
Both the rear window side seats and the rear center seat are equipped with head restraints. WARNING ● Never drive the vehicle with the head restraints removed because they are designed to
1) Head restraint 2) Release button To raise: Pull the head restraint up. To lower: Push the head restraint down while pressing the release button on the top of the seatback. To remove: Whil
CAUTION The head restraint is not intended to be used at the lowest position. Before sitting on the seat, raise the head restraint to the extended position. A) When not used (retracted position)
SEE MORE:
1) Air intake duct 2) Air cleaner case 3) Clamp 1. Remove the hydraulic hose in the power steering system from the clip on the air intake duct. 2. Remove the hydraulic hose from the clip on the right side of the air cleaner case. 3. Unsnap the two clamps holding the air cleaner case cover.
This setting allows you to direct air of different temperatures from the instrument panel and foot outlets. The air from the foot outlets is slightly warmer than from the instrument panel outlets. 1. Set the air inlet selection button to the OFF position. 2. Press the "" button. 3. Set th
© 2010-2020 Copyright www.suoutback.com